Drip coffee makers are one of the most popular types of coffee makers on the market and for good reason. They are affordable, easy to use, and produce delicious coffee. A drip coffee maker is an easy way to upgrade your kitchen if you're a religious coffee drinker. Jump start your day with some cold brew, or hot freshly brewed coffee.
There are a lot of different Drip Coffee Makers on the market these days. How do you know which one is right for you?
We've reviewed different Drip Coffee Makers and provided some tips on how to find the best one for your needs. So check out our top 5 favorite Drip Coffee Makers for 2023!
---
01) Primula Burke
4 new from $17.98
3 used from $13.00
Free shipping
as of November 29, 2023 7:12 am
This Primula Burke cold brew coffee maker is essential for a quick and easy cold coffee drink! This coffee maker comes in six colors, both unique, and staple: black, white, red, blue, and aqua that is sure to match the rest of your kitchen and appliances. This device makes not only cold brew coffee, but can be used for other steeped beverages such as loose leaf and flower based teas.
This device is so simple and easy to use, you can prepare drinks in advanced and let them steep even longer. Do this for a deeper and richer flavor in your pre-prepared drinks for the following days! With this coffee maker you can brew, store, and serve your drinks all in one.
---
02) Sboly Single Serve K Cup Coffee Maker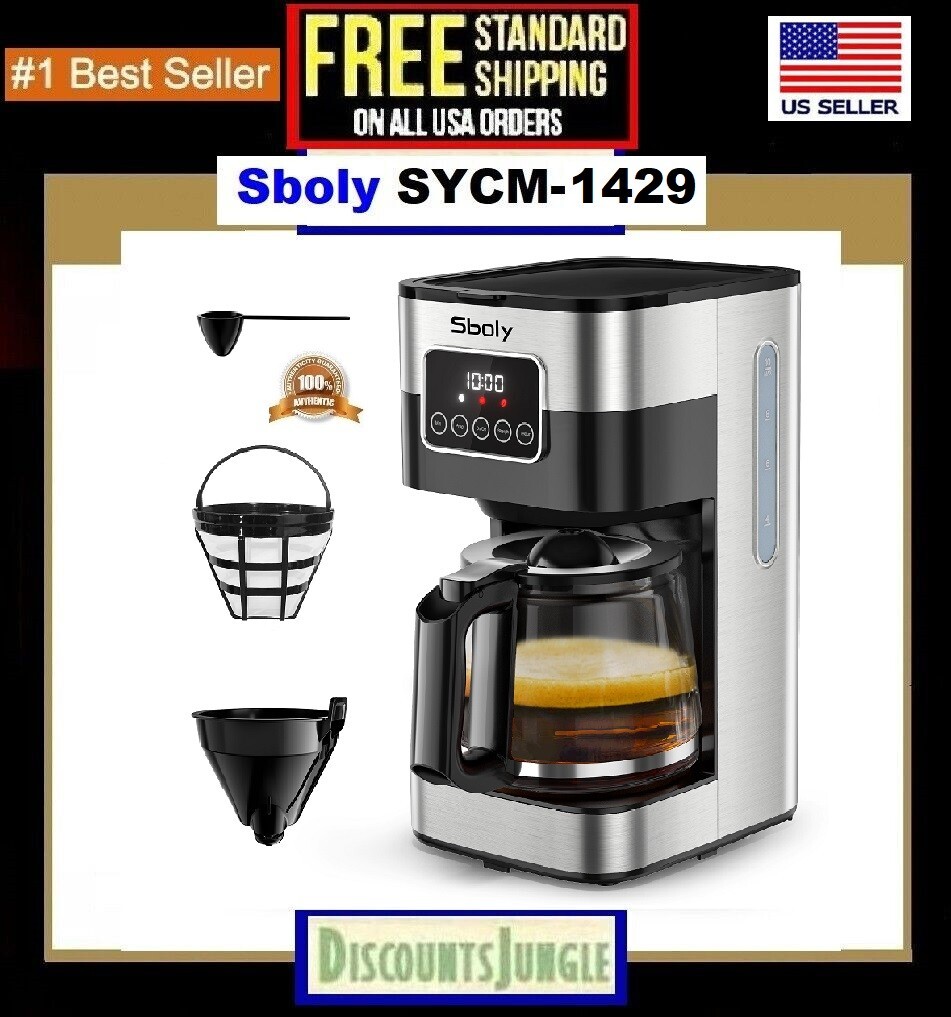 as of November 24, 2023 7:03 pm
Sboly SYCM-006. Single Serve Coffee Maker with Milk Frother for K-Cup and Ground Coffee Cappuccino Machine Latte Maker Bundle. Enjoy cold, or hot foam, and super heat beverages. This milk frother and beverage heater allows you to indulge in café-style coffee drinks with different textures of froth in 1-3 mins.
The Sboly single-serve coffee maker is made to brew both K Cup pods or coffee grounds. At the touch of a button, this machine can make coffee in the blink of an eye, it only takes 3 minutes for one full cup of coffee!
A water adjustment feature helps you decide the ratio between water to grounds or the K Cup Pod, so you can control the strength of your coffee and enjoy it just the way you like!
---
03) KitchenAid KCM1208DG 12-Cup
3 new from $99.99
Free shipping
as of November 29, 2023 7:12 am
KitchenAid is a brand known for all it's kitchen tools and appliances! There KCM1208DG drip coffee maker is sure to be up to par with the brand's standards. Available in charcoal grey and onyx black, this classic looking machine is sure to fit your tastes in both in visual preference, and coffee flavor!
The 29-hole spiral showerhead saturates all of the coffee grounds evenly, so you can make the most out of the grounds' flavor. The water tank can be filled easily, with a visual indicator on the reservoir showing how much water is needed for a specific amount of coffee.
---
04) BUNN GRB Velocity Home Coffee Brewer
1 used from $172.70
Free shipping
as of November 29, 2023 7:12 am
The BUNN GRB Velocity coffee maker can brew up to 10 cups of coffee at a time. This coffee maker claims to be one of the fastest, and guarantees that it can make full cup of coffee in about 3 minutes! With this machine, jump starting your day will be immensely quick and effortless!
The included glass carafe is designed to be drip-free, leaving your counter clean with no coffee wasted. The multi-strem spray heads in this appliance allow optimal extraction of flavor from the coffee grounds straight into your cup, unlock the full potential of your coffee! Enjoy the bold flavor with BUNN!
---
05) Technivorm Moccamaster KBTS
21 new from $99.00
2 used from $50.12
Free shipping
as of November 29, 2023 7:12 am
The Technivorm Moccamaster 79212 coffee maker is made out of aluminum and stainless steel, which are both light, food-grade, and easy to clean—absorbing no stains from your coffee. This coffee maker is extremely easy to use, with just the click of one button, and a wait of 4-6 minutes, you can enjoy a barista-like cup of coffee in quality and taste.
The manually adjustable brew basket allows you to enjoy your coffee whichever way you please! The carafe is stainless steel to ensure your coffee stays hot even if you don't consume it right away, or are serving it to guests, friends, or family! Delicious coffee made simply and quick with Technivorm!
---
Watch this super useful video to get 5 extra tips on how you can make your drip coffee taste even better:
---
---