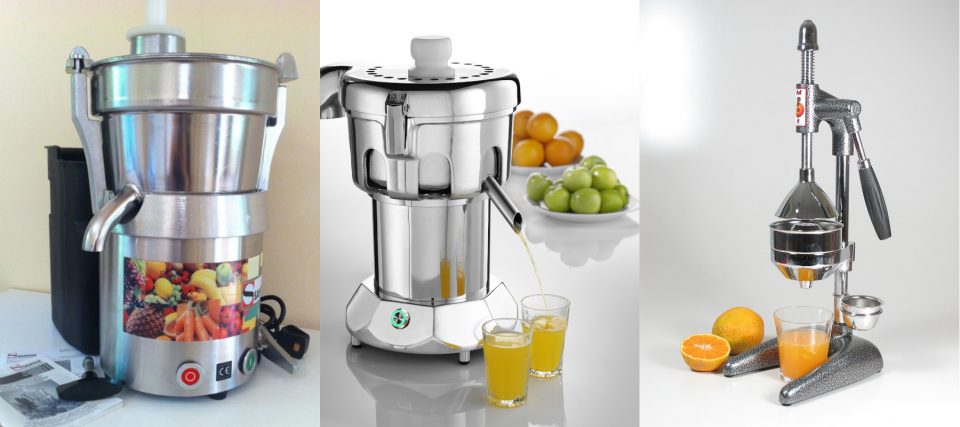 ---
01) Omega J8006 Nutrition Center Juicer
3 new from $249.50
15 used from $195.66
Free shipping
as of November 29, 2023 1:07 am
The Omega J8006HDS Nutrition Center Quiet Dual-Stage Slow Speed Masticating Juicer is a long-lasting juicer that will help you get the best juice for your health needs. Being a masticating juicer prevents oxidation and heat buildup that will help preserve the nutritional value of fruit and vegetable juices. It is also a high-yield juicer that gives you the maximum juice for all your produce. It has 5 settings that you can control for precise juicing. This commercial grade masticating juicer is perfect for a big family or even a small juice stand for a healthy and convenient juicing experience.
---
02) Hamilton Beach Otto Extractor
5 new from $2,160.00
1 used from $799.99

as of November 29, 2023 1:07 am
The Hamilton Beach Commercial Otto The Centrifugal Juice Extractor is a commercial juicer that uses a centrifugal force mechanism to extract juice from fruits and vegetables. What is different about this juicer is that it has a brushless induction motor that allows for quiet juicing and it has dual cooling fans so that the juice will not overheat in the process. It is specially designed for continuous use so you do not need to pause in between each use. It also has a wider feed chute that allows you to feed fruits and vegetables without cutting them into small pieces.
---
03) Nutrifaster N450 Commercial Juicer
2 new from $2,473.54
Free shipping
as of November 29, 2023 1:07 am
The Nutrifaster N450 Multi Purpose Juicer in Polished Aluminum is a commercial-grade durable juicer that will last you through heavy use. It is a quiet juicer that will let you produce juices in a fast and easy way. What is great about this is it has a pulp ejection that automatically ejects the pulp after each use so you can keep on juicing non-stop. It is recommended for juice bars, restaurants, spas, and other places that serve juices as a staple drink as it is time-efficient and it will save you cleaning time as well because of the automatic pulp ejection feature.
---
04) Jupiter XL Commercial Citrus Juicer
If you love citrus juices or your business is serving lemonade and grapefruit juices then the Focus Foodservice 97336 Jupiter Large Commercial Juice Press is the one that you should get. It is made especially for acidic fruits that may tarnish regular juicers easily. It is made of cast iron and stainless steel construction that resists rusting and corrosion from acidic fruits. It is a manual commercial grade juicer that will effectively juice your citrus fruits according to your preference. It is great even for families who love drinking fresh orange juice or if you have an orange tree in your backyard.
---
05) Breville 800JEXL Juice Fountain Elite
14 used from $169.45
Free shipping
as of November 29, 2023 1:07 am
The Breville 800JEXL Juice Fountain Elite Centrifugal Juicer is one of the commercial-grade juicers from Breville that we recommend getting because it is powerful and sturdy. Aside from its ultra-sharp cutting disc made of titanium it also has an Italian-made filter that makes it easy and quick to juice your fruits and vegetables. It also ensures that you get a fine juice without all the pulp. It has two-speed controls so you can switch depending on your juicing needs. Because of its powerful mechanism and centrifugal force you will need to wait a second or two between each use.
---
---
---