If you're looking to create beautiful latte art, the two things you'll need are a reliable latte machine and the best frothing pitcher to help you do so. A frothing pitcher is a specially designed pitcher that is used for frothing milk. It has a spout that allows you to easily pour the milk into your coffee cup. There are many different frothing pitchers on the market, and it can be difficult to decide which one is right for you.
Not all pitchers are created equal – some make it difficult to create latte art, while others simply don't produce good foam.
Whether you want one for your business, or just for personal use, we have compiled a selection of the best frothing pitchers you can purchase in 2023:
---
01) Fellow Eddy Steaming Pitcher for Pouring Exact Latte Art
This 12 oz Fellow Eddy steaming pitcher is perfect for milk frothing and making latte art. The pitcher comes in a sleek design in two colorways, a dark tinted metal, and a polished silver one.
Markings on the inside help assist with measurements for the perfect amount in every pour. The pointed tip helps for precision in pouring and especially latte art. To make it all the more so comfortable to use, the ribbon handle is easy to grip and maneuver!
This pitcher is the perfect way to pour!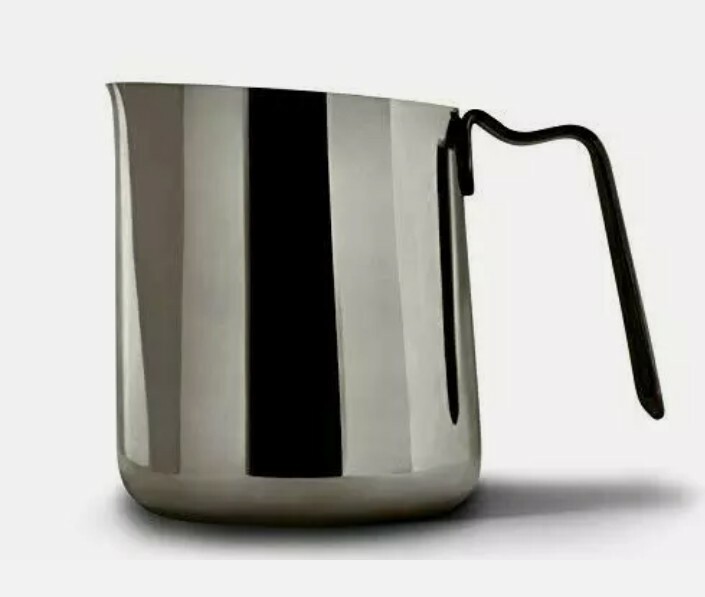 $

39.00
check latest price
as of November 24, 2023 2:06 am
Fellow Eddy Steaming Pitcher - Milk Frother Pitcher with Fluted Spout Premium....
---
02) Milk Frothing Pitcher 30oz
If you're in the market for something larger and a little more heavy-duty, this may be the frothing pitcher you're looking for! This 30 oz. pitcher can hold almost a liter, but is still incredibly easy to use!
Made out of stainless steel with a curved lip, the size surely does not hamper its pouring precision. The jug's sleek silver design is stylish and simple, sure to be the perfect simple staple for any home or business. The angular but open handle makes it easy to grip and use when pouring out.
A frothing pitcher has never looked better!
---
03) Dianoo Stainless Steel Frothing Pitcher
If you're someone a little more adventurous with their coffee making gear, you and this Dianoo Stainless Steel Pitcher are a match made in heaven! It's rainbow holographic metal reflects light colorfully and playfully, surely to be an eye-catcher among baristas and coffee lovers alike!
Not only does it looks good but it works fantastically! This pitcher is  made out of stainless steel ensuring you can use it endlessly. Available in 350 ml and also a bigger 600 mL, there's sure to be something for anyone and everyone!
With an elegantly molded pouring spout for precision, and a sturdy handle, this pitcher puts the fun in functional!
---
04) Espresso Steaming Pitcher 12 oz
This espresso steaming pitcher is simple, sleek, and straight forward. Precise measurements on the inside in both ml and oz allow for consistent amounts with every pour. Perfect for the home, or business, the pitcher is designed in three varying sizes: 12 oz, 20 oz, and 32 oz. You can pour out as much or as little as you please!
The dripless spout design  helps with clean and easy pours every time. No more mess and hassle! The handle is reliable, and designed to be easy to hold, and safe as well, guaranteeing no burns and accidents!
With this pitcher, milk frothing and precise pouring is the name of the game!
---
05) X-Chef Frothing Pitcher
This X-Chef Frothing Pitcher is sure to be a hit in any kitchen or coffee shop! The stainless steel material helps prevent corrosion and rust developing on your pitcher. This 20 oz pourer is sure to provide precise and consistent pours every time, with oz and ml measurements on  the inside.
The sharp spout allows for precision in pouring and latte art, and is dripless, guaranteeing no spill or mess to clean and fuss with. The pitcher has a wide opening, making it easy to clean with no place for any dirt or stains to hide!
This simple X-Chef pitcher can help change the way you make coffee, it's an obvious upgrade! What are you waiting for?
---
---
---