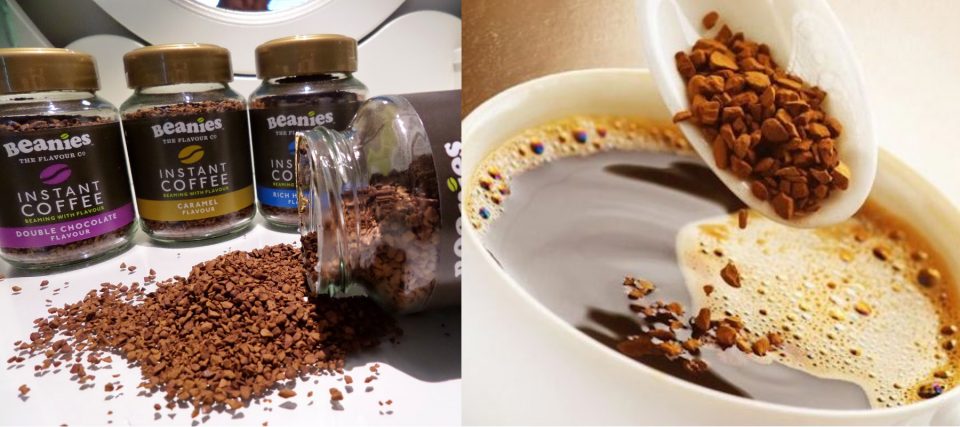 We all know the struggle – you need your morning coffee fix but you simply don't have time to brew a pot when you're rushing to get ready and leave the house. The perfect solution, you ask? A delicious, refreshing cup of instant coffee.
Now all instant coffees are created equal, though. That's why we've put together a list of the best instant coffee brands for a delicious cup of Joe. Whether you're looking for something strong and bold or smooth and creamy, we've got you covered. Taste and quality don't have to suffer even if the coffee is instant!
Keep reading to learn more about our top five picks.
---
01) Waka Coffee
This Colombian medium roast coffee from Waka Coffee is made from high-quality coffee beans into the perfect instant coffee. To preserve the original aroma and flavor of the coffee, the beans were freeze-dried and processed to make a quick, easy, and tasty powder.
The taste will surprise you! This instant coffee tastes like a delicious cup of freshly brewed coffee but can be made in an instant, all you need is hot water! Smooth-bodied with notes of citrus, this coffee can be enjoyed any time of the day, and practically anywhere with how easy it is to prepare!
---
02) Four Sigmatic Mushroom Coffee with Lion's Mane & Chaga
Four Sigmatic Mushroom instant coffee is a delicious organic coffee, that focuses on giving you clarity instead of caffeine confusion. Replace your regular beans 100% organic Arabica coffee beans mixed with 500mg of organic Lion's Mane and  Chaga mushroom powder to give you focus and mental clarity. No need to worry about tasting the mushrooms, guaranteed this instant coffee tastes just like coffee!
These ingredients are good for the immune system and have antioxidant properties that are good for your wellbeing. This coffee mix is also suitable for any diet be it vegan, paleo, keto, dairy-free, and everything else!
---
03) Starbucks VIA Italian
Starbucks VIA dark Italian roast is made out of 100% high-quality arabica beans. With this instant coffee, flavor doesn't suffer! This roast has a sweet, rich, deep flavor and contains hints of sweetness from caramelized sugar.
This instant coffee tastes like a freshly brewed cup of Starbucks Italian roast coffee! Now it's easier than ever to take your favorite coffee shop's flavor home with you, and even easier to make it! Just take one packet of instant coffee, wait 10 seconds, and stir in hot water! Start your day fast and easy with Starbucks VIA Italian instant coffee!
---
04) NESCAFE Clasico
Nescafe Clasico instant coffee sticks are one of the most recognizable staples in instant coffee! This dark roast drink delivers a rich, bold flavor that people around the world know, love, and rely on to start their day! You can be assured this instant coffee is made with 100% real coffee beans, and you can taste the quality too. Made with ethically sourced, high quality arabica and robusta beans, you can enjoy your cup of joe guilt-free. There's no questioning why this is one of the most famous variations of instant coffee. Enjoy a cup of Nescafe Clasico instantly!
---
05) Maxwell House
Maxwell House House Blend Medium Roast K-Cup Coffee Pods can be made in a snap! The same consistency of coffee anytime, just pop one of these k pods into the machine, brew, and enjoy! These pods are sure to give you the jolt you need to start your morning, and remain fueled throughout the day (but a refuel is no problem either!)
Enjoy these pods at home or in the office, since these pods designed for both the Keurig 1.0 and 2.0 brewing systems. Making a cup of Maxwell House medium roast blends are an absolute breeze no matter where you are, just pop it in and brew!
---
---
---