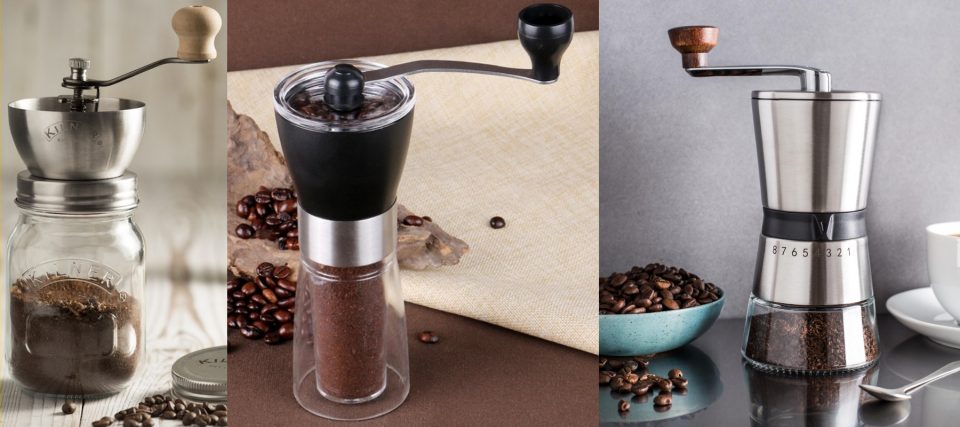 Maybe you have a coffee maker or a coffee press at home, but did you know that you can make better and fresher tasting coffee if you grind your own beans? Check out the best coffee grinders that we recommend for coffee lovers.
---
01) Chideno Mini Portable Grinder
Who says that coffee grinders have to be expensive and noisy? The Chideno Mini Portable Grander is a manual coffee grinder that eliminates unnecessary cost and noise by electric coffee grinders. The best thing about this is that it is practical and portable, yet sturdy and reliable, and can be carried anywhere, making it perfect for grinding your coffee beans during your travels and camping. It has two settings for coarse and fine grinding which are super simple – grinding clockwise will result in fine coffee bean grind, while counter-clockwise grinding gives you coarser grinds.
---
02) 1Zpresso Q2 Manual Coffee Grinder
If you cannot leave your coffee equipment at home and you want a travel-friendly grinder to bring with you in your travels the 1Zpresso Q2 Manual Coffee Grinder Mini Slim Travel Sized is the perfect compact coffee grinder for you. It can easily fit your bag, or if you have an AeroPress it can fit in the plunger too. It might be small but it is a strong and premium tool that will help you achieve the right grind for your coffee. It comes with a 1-year warranty for any problems you might encounter with your grinder.
---
03)

Hario Skerton Pro Ceramic Manual Coffee Grinder
7 new from $49.50
Free shipping
as of September 20, 2023 7:13 pm
Enjoy the best-tasting coffee with freshly ground coffee beans. You will definitely taste the difference between pre-ground coffee that you buy from the grocery stores compared to coffee beans that you grind just before you brew it. The Hario Pro is a durable manual coffee grinder that is super quiet and convenient and easy to use. You can control what type of grind you want depending on the machine or tool you will be used for brewing your coffee. The grinder is made of ceramic parts and stainless steel so you are sure that it is sturdy enough to last a very long time.
---
04) Vzaahu Manual Coffee Grinder
The Vzaahu Manual Coffee Grinder with Stainless Steel Conical Burr boasts its ultra-sharp and precise grinding mechanism. It has a hand crank mechanism that is easy to use. You can choose from 8 settings to achieve the grind you are looking for. It is durable and very portable so you can bring it when you go camping or on your travels. What we love about this is its mechanism is not confusing and the motion feels natural to the hands.
---
05) Hario Plus Ceramic Coffee Mill
7 new from $39.50
3 used from $35.75
Free shipping
as of September 20, 2023 7:13 pm
The cheaper alternative to electric grinders is the Hario Ceramic Coffee Mill – "Skerton Plus". This is a stronger model of manual grinders. It has a burr stabilization plate and a stronger grinding shaft to ensure you get a uniform and consistent grind. What is great about this is it has an ergonomic design and non-slip rubber base that helps you hold on firmly to the grinder while you are using it. You can easily fit this in your pouch or bag when traveling because the parts of this manual grinder are detachable and easy to assemble when needed to be used.
---
---
---