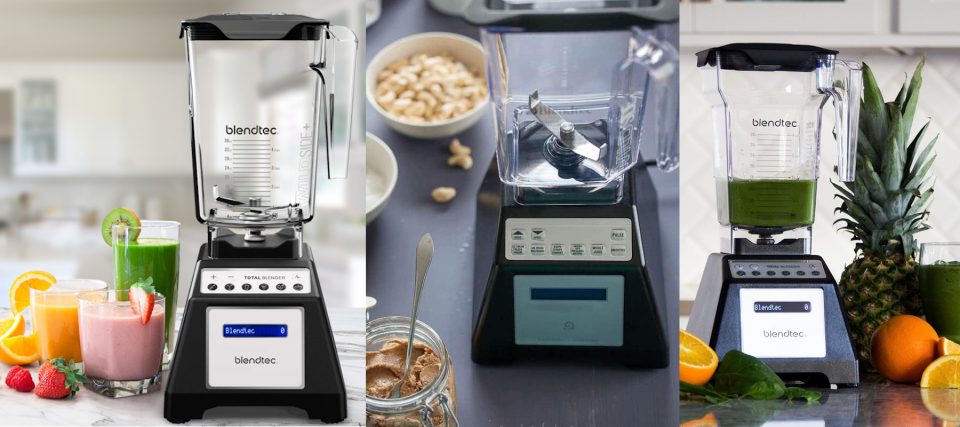 When looking into professional and high-end blenders with extended durability, high power, and the best results, there are certain manufacturers which have tailored their production to meet those exact needs. Though these more robust machines come in at a higher price point, for a serious long-term investment, these blenders fit the bill perfectly.
Able to handle even the toughest ingredients, using high powered machinery to make the smoothest blends for all requirements – from sauces to soups, salad dressings, plant milks, and smoothies to crushing ice effortlessly for everyday and large scale requirements, it is no wonder industrial catering blenders have now found their way into home kitchens too.
Among the higher end of blender manufacturers is the powerful Blendtec, which has catered to both the commercial and residential markets since 1975. The US-based company has built a solid and justified reputation with some of the leading blenders on the market today, and is widely trusted as one of the leading brands.
---
01) Blendtec Total Classic Original Blender – Fourside Jar
1 used from $300.16
Free shipping
as of September 20, 2023 5:04 am
At the entry-level of the Blendtec range, the Blendtec Total Classic Original is the perfect option for those who require a regular and robust machine, but don't want to pay out for all the more extravagant features at the higher end. With six pre-programmed cycles and ten manual speed controls to cater to a wide range of daily kitchen needs, this machine is perfect for busy and modern family meals of all types.
The patented stainless-steel winged blade, which in comparison to other standard blenders has ten times the strength, and gives a fluid and smooth consistency to all blends, is a quality feature for those who rely on their daily smoothies and salad dressings but can also handle harder ingredients impressively well including crushing ice. It also has a great warming feature making it perfect for soups.
With its strong four-side jar, precision pulse button, and powerful motor, this lower-priced Blendtec model is incredible value in comparison to standard cheaper models. All round this is a sound investment for those who want quality but at a more affordable price tag.
---
02) Blendtec Classic 575 Blender
Another reasonably affordable option for those needing a high-powered blender, the Blendtec Classic 575 gives exceptional quality for money. With its ability to handle unchopped ingredients of all sizes, which even those standard blenders would struggle with, giving a silky consistency for smoothies, soups, sauces, and more, it is the perfect introduction to high-powered blenders. The five-speed manual control and four programmed cycles featured on its user-friendly touchpad allow for varying textures and consistencies and deliver great results repeatedly.
Its safety blade makes it safer for manual cleaning, and its self-cleaning feature, simply by adding a little soap to the blender, is capable of cleaning itself well. The commercial-grade motor is particularly impressive at the price point and with other features such as its quick processing speed, durable Wildside+ jar, and 8 year warranty, this is a winner all around.
---
03) Blendtec Professional 885 Blender
At the higher end, for those who take their blending seriously and want a fully equipped, modern, feature-packed and powerhouse blender, the Blendtec Professional 885 is an incredible machine. Aside from packing in all of the features of the regular powerful Blendtec models, the Professional 885 has an extensive range of extras.
Beginning with its most obvious appealing feature, its sleek, sound-canceling enclosure, this is a very quiet machine in comparison to standard blenders especially, which makes it perfect for those in need of frequent use at any time of the day. The encasement doesn't hinder its power however and the impressive model runs at 3.8 peak horsepower, working through even the toughest ingredients effortlessly.
The easy-to-use, illuminated touch screen interface, makes it highly efficient to handle 42 perfectly programmed cycles, with options to cover everything from batters and smoothies to frozen desserts, whole juice, and even hot soups and liquids. The manual slider also gives the option for eleven-speed controls so that you can blend to any consistency desired. With the interface also providing feedback including time remaining, it makes blending effortless and less time consuming
Overall, this machine really is the ultimate in home blending with commercial results, and with its three-year warranty, is incredible value for money for those who want a powerful, durable machine that covers all blending functions perfectly.
---
---