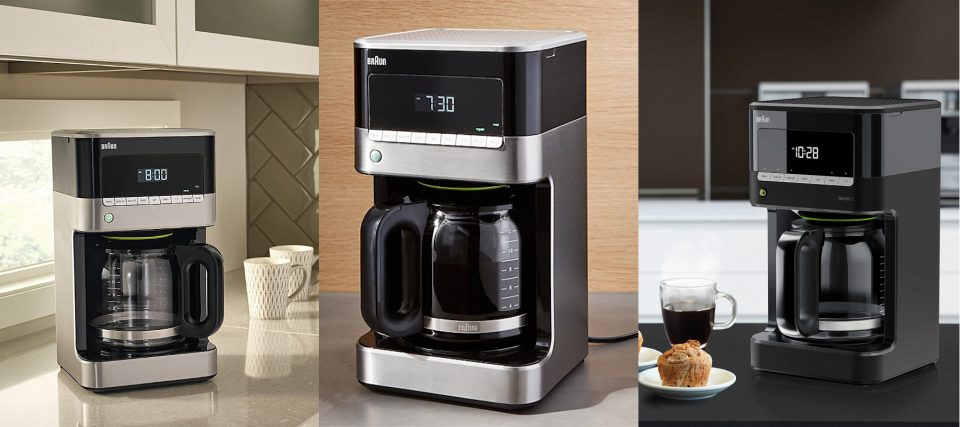 Braun are a trusted name across the board and produce everything from electric razors to food mixers. Here we take a close look at their coffee makers and choose our top three models.
---
01) Braun BrewSense KF7170SI Drip Coffee Maker
3 new from $109.95
5 used from $51.71
Free shipping
as of September 20, 2023 7:12 pm
The Braun BrewSense Drip Coffee Maker has an innovative Pure Flavor System that promises and delivers satisfaction every time by providing coffee at the ideal temperature and brew time.
The digital controls make brewing coffee easy, without the need for any extra settings. Whether you want a regular coffee or an extra bold, you can just press a button and have it delivered for you. The unique carafe lid helps seal in all the flavors by keeping the air out to prevent oxidation, while the anti-drip system makes sure you can pour your coffee without any drips and spills.
---
02) Braun BrewSense KF7000BK
3 new from $63.80
11 used from $54.50
Free shipping
as of September 20, 2023 7:12 pm
The Braun BrewSense KF7000BK Coffee Maker also has Braun's patented Pure Flavor Brewing System that makes sure you get consistently great flavor from your coffee, from the first drop to the last. It can brew up to 12 cups of coffee at a time, making it very convenient for making coffee for the whole family first thing in the morning.
It also has a fully programmable 24-hour clock with auto on/off function, as well as 1-4 cup functions, and has an awesome automatic feature that will make coffee on a timer.  You can get your coffee right away and get started with your day the right way.
---
03) Braun BrewSense KF7150BK
6 new from $79.95
6 used from $76.75
Free shipping
as of September 20, 2023 7:12 pm
The BrewSense KF7150BK Coffee Maker has the Pure Flavor Brewing System, the fully programmable 24-hour clock, auto on/off function, 1-4 cup function, regular or bold strength selector, extra-large digital display, and so on that Braun coffee makers are known for.
If you're looking for the ultimate Braun coffee maker, this is definitely it. Perhaps the best in the BrewSense line, you get the best possible premium design in the KF7150BK. It also has an innovative carafe lid for preserving leftover coffee and an anti-drip system for no drips and spills. It should look great on your kitchen countertop and help you start your mornings right every single time.
---
---
---