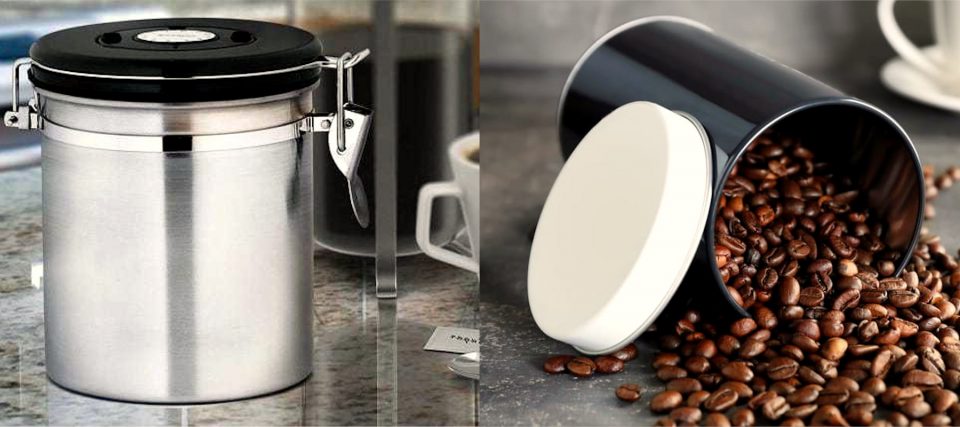 The way you store your coffee beans significantly affects your coffee's freshness and flavor. When exposed to air, the beans will oxidize and their quality will start to diminish regardless of how expensive they are. To prevent this from happening, they need to be stored in an airtight container in a cool and shady place. Ditch your rubber bands and switch to these excellent containers meant to preserve the condition of your coffee beans!
---
01) OXO Good Grips Pop Container
9 new from $15.95
11 used from $13.80
Free shipping
as of November 29, 2023 1:07 am
To keep your coffee beans in crisp condition, you'll need an airtight container that will prevent any moisture from seeping into them. Rubber seals might not be enough, so you'll need a lock of some sort to ensure that your beans will stay as fresh as possible. A great example of this is the OXO Good Grips Pop Container. The covers of these containers have a button that produces a satisfying click sound that engages the airtight seal. They come in a variety of shapes and sizes as well, so you can easily choose the best one that fits your cupboard. They're dishwasher-safe, too!
---
02) Coffee Gator Stainless Steel Container
2 used from $14.20
Free shipping
as of November 29, 2023 1:07 am
One of the most sought-after products on this list is the Coffee Gator Stainless Steel Container. Aside from having an airtight lever seal, this impressive container has a one way CO2 valve that lets the coffee beans or grounds to degas just the right amount of carbon dioxide. This gas prevents the coffee from having a flat and stale flavor. Plus, it has a calendar wheel where you can log the date of purchase and expiry date! This way, it's easier to keep track of how long you can still consume your coffee. You also get an additional stainless steel measuring scoop and four additional replacement filters for future use.
---
03) Planetary Design Airscape Coffee and Food Storage Canister
Buying coffee beans in bulk is cheaper, but storing them is a different story. It's easy to find huge containers, but how can you maintain the freshness of large amounts of coffee beans? If you're a bulk buyer and this has been a long running-concern, then the Planetary Design Airscape Coffee Storage Canister might be the one you're looking for! This can hold up to 1lb of coffee beans and has a specialized Airscape lid that acts as a one-way valve that pushes out the air from the container and prevents oxygen from damaging the beans. The clear top lid has a flat surface that makes it easier to stack it with the other Airscape containers.
---
04) Veken Stainless Steel Airtight Coffee Canister
Exposure to light impacts the freshness of coffee beans, which is why most coffee canisters are made with opaque materials like tin and stainless steel. Transparent food storage containers won't do, because glass and plastic doesn't shield the beans from harmful UV rays that can reduce your beans' shelf life. For the best protection against light, choose Veken Stainless Steel Coffee Vault. It effectively blocks out UV rays to maintain your coffee's rich and aromatic flavor. Plus, you get 6 one-way CO2 valves with your purchase, as well as a stainless steel scoop!
---
05) Chef's Star Airtight Stainless Steel Canister
It's hard to find a coffee canister with an airtight seal, a gorgeous design, and a budget-friendly price tag. Lucky for you, the Chef's Star Airtight Stainless Steel Canister ticks all the boxes! This has an airtight vacuum sealed protection to preserve the freshness of your coffee beans and prevent it from losing flavor. It also comes in a beautiful copper shade that will certainly look good on anyone's kitchen counter. In terms of price, this coffee canister is the most affordable item on our list! It's a great gift idea to coffee-loving friends and relatives as well so if there's an upcoming celebration, this should be on top of your gift list.
---
Now that you have your coffee storage covered for keeping your beans as fresh as day one, take a look at these great coffee grinders to ensure a perfect cup of freshly ground coffee every time.
---
---