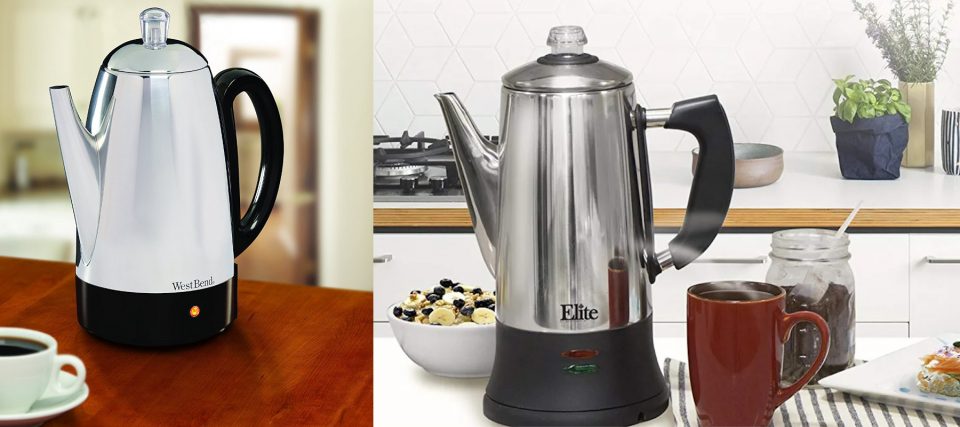 Looking to invest in an electric coffee percolator? Good choice – this kitchen appliance is perfect for making the best cup of joe. Apart from built-in coffee makers and automatic espresso machines, the electric coffee percolator is considered the best option by many coffee connoisseurs.
However, there are some things you need to know before you purchase an electric coffee percolator. The first consideration should be how often do you plan on using your percolator. If you'd like an occasional coffee, then you can pick a basic model without added bells and whistles. However, if you're entirely obsessed with "proper" coffee (like we are at Fika NYC – don't judge us for our coffee elitism), you should probably consider getting an advanced percolator.
Your second consideration should be your budget. The good news is that electric coffee percolators come in various price ranges, starting from about $30 up to $300, so it's possible to find a percolator that suits everyone's pocket. Keep in mind that the best percolator doesn't have to be the most expensive one – there are plenty of affordable, yet extremely high-quality premium electric percolators.
Finally, the last thing to consider is that different percolators come with different features. Ranging from built-in timers for coffee brewing at specific times, to keep-warm features and built-in grinders – you need to figure out exactly what you want from your percolator.
With all these things in mind, we've reviewed 5 of the best electric coffee percolators available on the market in 2023 with various features and in all price ranges, all neatly listed out for your convenience. Check them out!
---
01) Hamilton Beach Electric Coffee Percolator
2 new from $119.00
1 used from $109.99

as of September 21, 2023 6:04 am
The Hamilton Beach Electric Coffee Percolator lets you experience the taste of bold and flavorful coffee quickly and easily with as little fuss as possible. It's for those who still like the sound and aesthetic of a classic percolator over a single-serve or an automatic drip coffee maker.
This beautiful stainless steel percolator lets you make hot coffee fast and keeps it warm with a gentle heater. You can get the right amount of flavor you want with the coffee and water level viewing window. You can then pour your coffee with a cool-touch handle and no-drip spout, then put it away for later with a twist-off lid that locks in place.
---
02) Presto 02811 12-Cup Stainless Steel Coffee Maker
25 new from $67.48
14 used from $36.43
Free shipping
as of September 21, 2023 6:04 am
The Presto 12-Cup Stainless Steel Coffee Maker lets you brew rich and great-tasting coffee within a minute and keep it piping hot for the rest of the day. You can make up to 12 cups of coffee in one go with little to no difficulty while also making it look good with a stainless steel construction that's easy to clean and looks absolutely gorgeous.
As the percolator makes your coffee, you get that comforting sound of coffee bubbling in the background as you either get back to your morning work or cooking your breakfast. Once it's done, the coffee is kept warm for the rest of the day. When you need to put it away, the detachable cord makes it easy to store.
---
03) Farberware 12-Cup Percolator Stainless Steel FCP412
The Farberware 12-Cup Stainless Steel Percolator makes a whopping 12 cups of coffee in one go. Made with a stainless steel body that's durable and easy to clean, you can make coffee with no fuss and pour it safely with rolled edges, cool-touch handle, lid knob, and a stable base. It also keeps it warm on its own, so you can have hot coffee whenever you want.
This percolator gets 25F hotter than most drip coffee makers in the market, so you know you'll get the most out of your coffee in this appliance. It packs 1000 watts of power that heats up the water and brews your coffee with ease. When not in use, you can store it away easily with its power cord being easily detachable.
---
04) Euro Cuisine 4-cup Electric Percolator
The Euro Cuisine 4-cup Electric Percolator is perfect for people with smaller kitchens that can't fit a gigantic espresso machine, but still want to have high-quality coffee in the morning. The stainless steel with copper finish lets you brew coffee efficiently, serve it in style, and clean it easily afterwards.
It has a top clear glass knob that lets you look at your coffee while it's brewing, and it also has a brewing indicator that lights up when it's finally ready. It uses a permanent stainless steel coffee filter and is also dishwasher safe, so it's not wasteful at all and can be cleaned very easily.
---
05) Bialetti Venus Induction Coffee Percolator
3 new from $44.95
Free shipping
as of September 21, 2023 6:04 am
The Bialetti Venus Induction Coffee Percolator is a moka pot with a difference. Combining the rustic beauty of a moka pot and the convenience of a percolator, the Bialetti Venus makes coffee making a luxurious experience with induction technology. You don't just make a regular cup of joe with this, but rich and authentic espresso in a matter of minutes.
Bialetti has more than 80 years of legacy in its classic design, combining powerful technology and elegant simplicity into all of their products, and that includes the Venus. You can make 4 cups of coffee really quickly with this beautiful percolator that should look really good on your dinner table, kitchen countertop, or office workstation.
---
Check out this crash course on how to set up your electric percolator and ensure optimal use for the best cup of coffee you've ever had every single time:
---
---