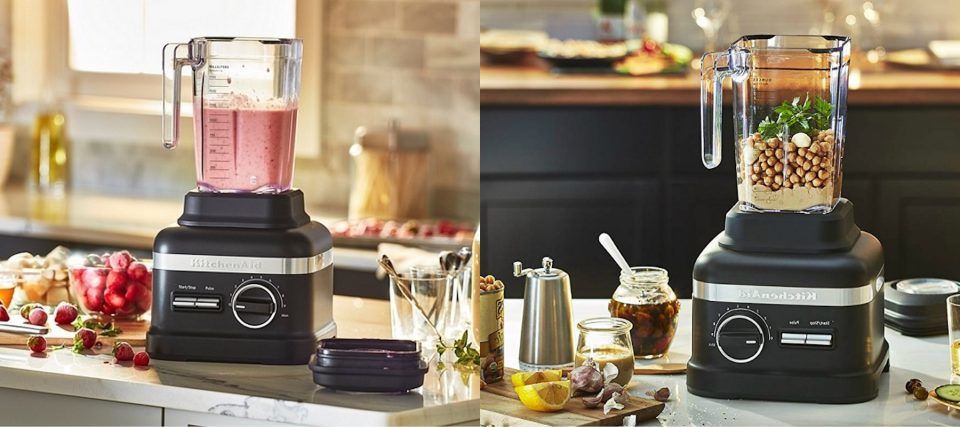 ---
The KitchenAid High-Performance Series Blender is a variable 9-speed blender with 3.5 peak horsepower, which blows every other blender in the market out of the water.
Thanks to this powerful motor, you can get the ideal texture from any food, no matter how tough or gummy it is, especially with super sharp stainless steel blades. The KitchenAid is perfect for making smoothies, soups, purees, and juices, and you can also get a version with a thermal control jar for making hot soups easily.
KitchenAid High Performance Series Blender
Size, Interface & Controls
The whole unit is 17.75 inches tall, 10.5 inches wide, 9 inches deep, and weighs 19.5 pounds. It's understandably hefty due to its powerful motor, so you may want to make sure you have room for it in your kitchen. If you can have this on your countertop, you'll get the satisfaction of being able to blend lots of ingredients all at once.
Despite the massively powerful motor inside, you get simple controls with just one dial and two switches, so you won't need to be confused at all in your own kitchen. It also has a tamper that lets you push ingredients into the blending vortex for an even smoother finish.
The blending jar is marked accurately in both ounces and millimeters, so you don't have to break out the calculator when following a recipe. You also get a measuring cup so you can blend just the right amount of ingredients with even more precision.
Cooking with a KitchenAid High-Performance Series Blender
You can make sherbets and ice cream with the KitchenAid due to its powerful motor, letting you blend fruits, milk, eggs, cream, and other ingredients into something that's super smooth and will freeze beautifully into a creamy dessert. But it's not just about speed and power as you get a tremendous amount of control, letting you blend in low speed as well to get exactly the texture you want.
It's great for making vegetable smoothies with no stringiness at all, even from fibrous ingredients like celery. You can make milkshakes and protein smoothies with no chunks, just smooth and delicious goodness to start your day or cap off a workout session. You can also juice with it, so you can make a blended fruit drink quickly and easily in a smooth consistency without giving you big chunks of pulp.
Washing, Cleaning & Maintenance
This KitchenAid blender is really easy to clean, despite the fact is seems complicated. The blending jar is made with an easy-to-clean material that will not let any grease stick to it. All you have to do is fill a third of it with water, add a drop of liquid detergent, and blend it in the cleaning cycle to take all the grease and bits off.
After a proper wash, you'll then be left with a squeaky clean jar and blades, ready for more blending without accumulating crust and smells. Also, the KitchenAid is built to last with its durable construction and robust design. You are sure to enjoy many years of blending, juicing, and pureeing
---
---
---