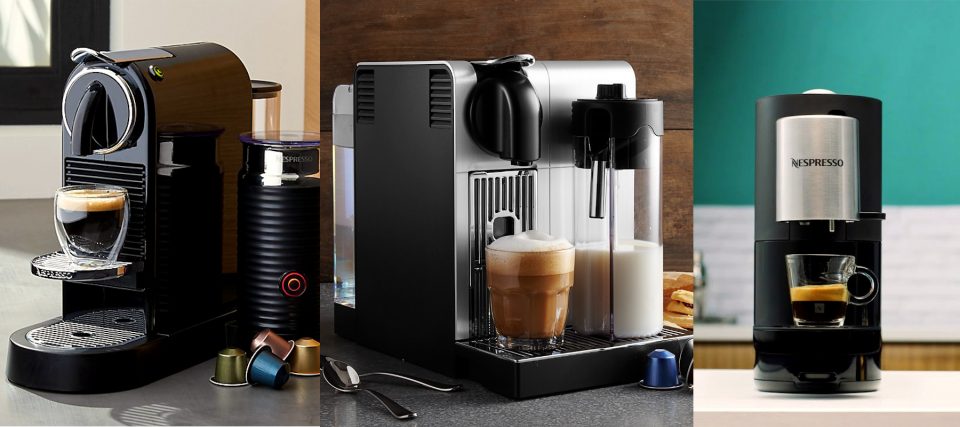 Nothing beats the convenience of Nespresso machines. Simply load your favorite Nespresso pod and you'll instantly have a steaming cup of coffee in seconds. The problem is, which one should you choose? There are lots of models to choose from, and picking the right one that suits your needs might take some time if you go it blind. Whether you're into affordability, portability, or overall performance, our list of the top Nespresso coffee machines will help you find the best one for you.
---
Want something that can fit your cramped counter? The Essenza Mini Espresso Machine has a compact design that does not consume too much space. It's the smallest machine in the line that is best suited for those who only need to brew a cup or two every time. The controls are pretty straightforward, and the water heats up in just under 30 seconds you can have your cup of coffee instantly. It also has a power-saving feature that automatically turns the machine off after 9 minutes of inactivity. Feature-wise, the Essenza is pretty impressive despite being smaller in size compared to other machines.
---
If you want a color-coordinated kitchen, we recommend the chic and stylish Inissia Espresso Machine. This model comes in six eye-popping colors: Vanilla Cream, Ruby Red, Orange, Black, Grey, and White. With a slim profile, you can place it anywhere on your counter and not worry about not having enough space for your other appliances. It also has an ergonomic metal fold-down handle that opens and closes the pod container and can also be used to carry the machine around. It may be small, but its water reservoir can hold up to 9 cups worth of water, making it a great machine to use especially when you have guests coming over.
---
Enjoying a frothy cup of cappuccino is now a luxury you can enjoy at home thanks to the Lattissima Pro Espresso Machine. It's an espresso machine made simple since you only need to press a few buttons to brew a variety of espresso-based drinks that you can have in a minute or less. Instead of manually operating a steam wand, the machine automatically froths your milk for you. It does all the work from start to finish, reducing the effort it takes to prepare your favorite drink any time of the day. For an instant barista-style beverage, we highly recommend going for the Lattissima.
---
The VertuoPlus Coffee and Espresso Maker is well-loved by consumers for its versatility. With its flexible design, you can brew your favorite Nespresso pod in different coffee cup sizes without a hitch. The machine also detects the barcode in each Vertuo pod and adjusts the brewing process without any need to change the settings, so you're assured that your drink is always prepared the right way. This bundle also comes with the Aeroccino, a fool-proof milk frother that allows you to make other espresso-based drinks such as cappuccino and latte! For it's price, you're getting a complete kit for your Nespresso needs, which is definitely worth it if you ask us!
---
If you want to improve your skills as a home barista, using the Creatista Plus Espresso and Coffee Maker is a great way to start. By combining the convenience of single-serve coffee and the features of a manual espresso machine, the Creatista Plus provides an excellent way to still enjoy your favorite Nespresso pods and perfect your latte art at the same time. With 8 different foam textures, the frother is able to produce the right type of foam needed to make cappuccino and latte. The Creatista Plus is an absolute step-up from other Nespresso machines so if you're serious about honing your barista skills, then this one's for you!
---
---
---