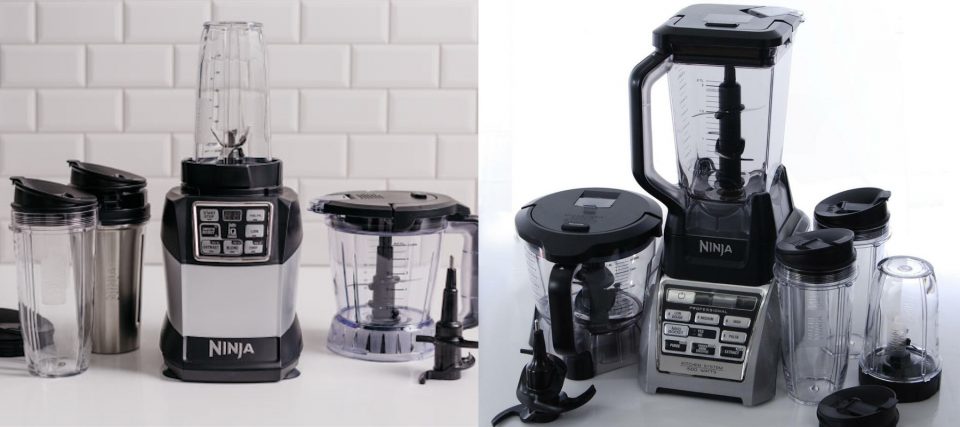 ---
Ninja IQ Blender
The Ninja BL482 IQ Blender has a 1,000-watt motor that can crush through even the hardest ingredients like whole fruits, vegetables, and ice easily in no time. Its Auto-iQ Technology gives the Ninja intelligent programs that can automatically select modes for different ingredients, whether it's timed pulsing, blending, or pausing patterns to blend anything perfectly.
Ninja IQ Blender Features
The Nutri Ninja Pro Extractor Blades rotate at really high speeds, powered by its 1,000-watt motor, to turn your ingredients into liquid, letting you get the smoothest juices, smoothies, and purees you'll ever have. Whether you're making a veggie smoothie for your health, protein shake after a workout, or just having a cold beverage during a hot day, the Ninja IQ Blender is perfect for that.
It's not messy at all due to its bullet design that lets you seal the cup first before putting it on the base. The bladed lid used for blending can be easily put on and removed, which also makes it easy to clean. You don't have to fuss with cleaning the base at all as all it needs is a bit of wiping every now and then.
The Blender Cup Set
You can replace the bladed lid with a spout lid for easy drinking. Everything can be done in one cup, from blending to drinking, which means making drinks with the Ninja IQ Blender really easy and free of any hassle. You get both an 18 ounce, 24 ounce, and 32 ounce cup, so you can choose how much you want, as well as make multiple drinks at once.
What can you make with the Ninja IQ?
The blades are powerful enough to crush ice, seeds, and frozen ingredients without being damaged. That means you don't need to wait to thaw ingredients before blending, so you can make a drink really quickly. Coupled with the Auto-iQ Technology, just tap on it and you'll get the perfect blend for a nutritious beverage to cool you down and keep you healthy.
If you wish to save a drink for later, you can put on a seal lid and keep it in the fridge until you want to drink it again. The seal lid keeps it fresh for a lot longer, as well as keep everything else out. The same seal that lets you blend with no drips or spills is the same seal that can keep your drink fresh and delicious for longer.
The Ninja IQ Blender has a nutrient and vitamin extraction system that blends ingredients into a smooth puree while still maintaining their goodness. That makes for great flavor and freshness without compromising their health benefits. The 1,000-watt motor is calibrated to have just enough power to blend up all sorts of ingredients, even if they're frozen hard.
If you don't know what to make, you also get a 3-day Jump Start Guide to show you how to make the best tasting and most nutritious drinks you can make with the Ninja IQ Blender. Making cold drinks and smoothies can become less of a messy and frustrating experience with the Ninja IQ Blender.
---
---
---