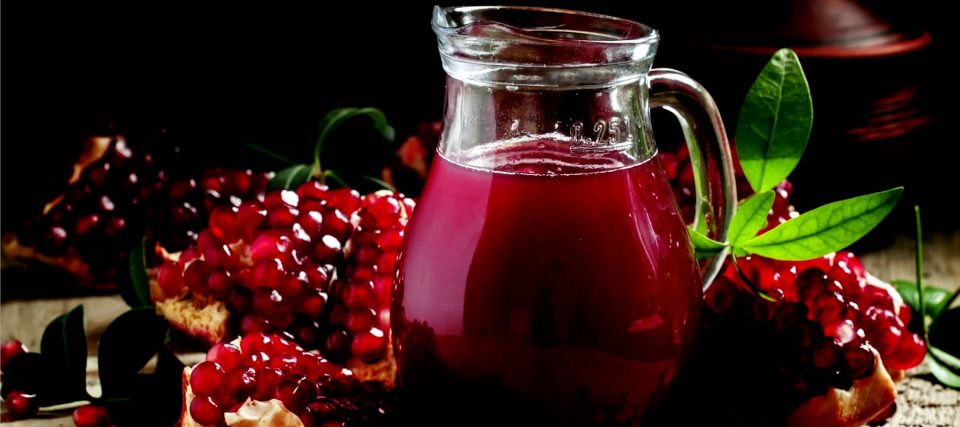 Fresh pomegranate juice is tasty and extremely healthy, so why not spoil yourself – with delicious freshly squeezed pomegranate juice.
Pomegranate Juice Health Benefits
Pomegranate juice is, of course, made from pomegranates – a fruit that is native to the Middle East and North Africa. Pomegranates are exceptionally high in antioxidants, which work by preventing damage to cells, thereby helping reduce the risk of cancer and other serious diseases. Pomegranate juice is also a great source of polyphenols, which can improve heart health if ingested from natural sources and taken in moderation.
Some studies have shown that pomegranate juice may help lower blood pressure and cholesterol levels. Furthermore, it is also a good source of vitamins C and K, as well as potassium. You can buy pre-made commercial pomegranate juice at most stores, but we recommend the freshly squeezed option for added health benefits. However, squeezing pomegranate juice without the necessary equipment can be a difficult process – this is why you'll need a reliable pomegranate juicer.
Types of Pomegranate Juicers
There are various types of juicers, so the first thing you need to do is decide what type of pomegranate juicer you need for your daily use. There are three main types: manual, electric, and hydraulic.
Manual pomegranate juicers are the cheapest and most portable option. However, they require more elbow grease than electric or hydraulic pomegranate juicers. Electric pomegranate juicers are the most popular type. They're easy to use and usually come with a variety of features, such as pulp ejection and adjustable speeds. Hydraulic pomegranate juicers are the most expensive option, but they produce the most juice. These juicers are also the most durable pomegranate juicers on the market.
We've selected the best pomegranate juicer on the market with the best of both worlds – a great amount of juice extraction from pomegranates and an affordable price. Keep reading to find out more about our favorite pomegranate juicer.
---
LavoHome Pomegranate Juicer
This commercial-grade pomegranate juicer is from LavoHome. Weighing 160 ounces, this device is sturdy and well built! Made out of food-safe cast iron, the metal is dense and strong, and runs cool, minimizing possible damage to the parts from heat and friction.
This juicer is designed to make pomegranate juice quickly, efficiently, and easily! With an ingenious and enduring design and parts picked especially for the best juicing experience, the simple black and silver color scheme gives this machine a sleek professional look, perfect for the restaurant kitchen, or home use!
The slim, ergonomic handle with a rubberized grip provides the ideal amount of leverage to make extracting the most juice effortless. While the designed-for-comfort chassis allows repeated use while minimizing possible strain on the wrist. Simple to dismantle for cleaning purposes, this is a well-thought-out juicer.
This fruit juicer presses up to about 1,400 pounds per square inch which will help you make the most of your lovely pomegranates, with little to no wastage. It can also tackle citrus fruits with no effort, meaning delicious summer fruit cocktails are easy.
For an efficient, sturdy juicer that is simple to use, makes no mess, and is easy to clean, this is a great choice.
---
If you're on a health kick and are looking for a great juicer for other types of fruits and veggies, make sure you take a look at our reviews of the best juicers of the year.
---
---