---
Many of us need something to drink to work as a pick-me-up during the day and while coffee may be the first choice for many, energy drinks are a great option for anyone who prefers soda over coffee.
Are both drinks equal though? Which is likely to work best to counter that mid-afternoon slump? Read on and find out all you need to know!
Coffee Overview
Whilst Red Bull is an extremely famous brand, it really can't compete with the average coffee consumption in the United States. Statistics show that Americans drink more than 140 billion cups of coffee annually, putting the States on the top of the coffee consumption list in the world. Coffee actually accounts for more than 70% of the caffeine consumed in the States.
Coffee is so much more than an energy boost, it's a significant part of many cultures. Coffee shops are an increasingly popular place to meet to catch up with friends or to grab a table and catch up on work or study.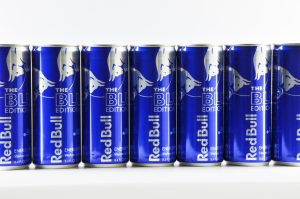 Red Bull Overview
Red Bull is an energy drink, sold mainly in the Western Market. Its iconic blue and silver design makes it instantly recognizable on a store's shelves, and the Red Bull gives you wings slogan is known throughout the world.
Red Bull's popularity is presented in the numbers, given that almost 7 billion cans were sold in 2018, making Red Bull a customer's favorite energy drink not just in the States but globally, however, this is nowhere near the 140 billion cups of coffee that are consumed annually.
Mainly created for convenience rather than taste, this beverage is popular among those who seek a quick energy boost or as part of their pre-workout routine.
Caffeine
The caffeine content of a cup of coffee can vary wildly, depending on the blend and strength used. Typically coffee contains between 80 to 200mg of caffeine per cup, while Death Wish coffee packs in an incredible 600mg per cup!
Notably, a can of Red Bull contains just 80 milligrams of caffeine, much like a weak cup of coffee, however, this may suit people who want to get a smaller caffeine kick.
Taurine
Similar to caffeine, Taurine is a natural stimulant and is found in small quantities in Red Bull. While the effects of caffeine on our bodies have been widely researched, taurine's effects are still pretty much unknown. This means that the ingredient's long-term effect is obscure, although it is claimed that it contributes to heart health and prompts short-term relaxation.
Sugar
Many people add sugar or sweetener to their coffee to counter the bitter flavor that not everyone loves, and increasingly a shot or two of a flavored syrup can help to sweeten a latte. However, while most people will limit themselves to just 1 or 2 sugars in their coffee, Red Bull contains a staggering 25 grams, that's more than 5 teaspoons per can!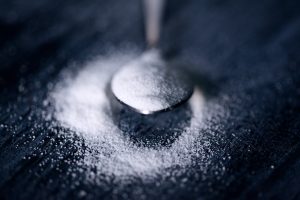 Antioxidants
While Red Bull does contain some antioxidants, coffee definitely wins this one. Coffee is rich in antioxidants which can help fight cell damage and can also reduce your risk of health conditions like heart disease and cancer. On top of this, studies have shown that people who drink at least four cups of coffee a day are 50% less likely to develop diabetes, just lay off the sugar and sweet syrups!
Calories
You should be careful with this one! It is obvious that Red Bull is much more calorific in one take rather than a black coffee. However, when you consider adding flavored syrup, milk, cream or sugar, the difference may not be so noticeable. If you want to watch the calories, then black is the way to go.
Last Thoughts
Looking for an option that you can drink daily? Choose coffee! When looking at the health benefits, coffee is the clear winner. Its antioxidant properties and lower calorie content mean that when you're deciding between coffee and Red Bull for your regular drink, coffee is the way to go. However, when drunk in moderation Red Bull can also be a great addition to your day.
---
---