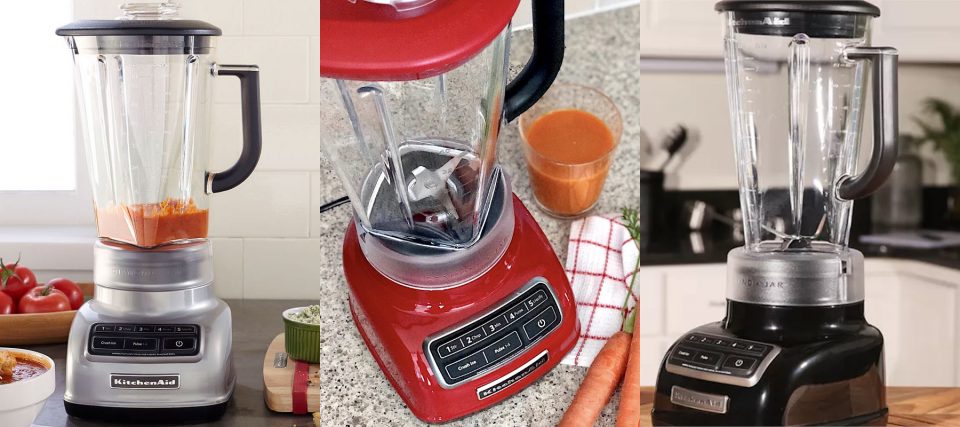 There are so many blenders on the market and it can be hard to choose one that will have all the qualities you are looking for in a blender. It can be daunting especially as each price range has advantages and disadvantages. What we can recommend is you buy a blender that you think will fit your kitchen space and can do all your blending requirements. Save time, effort, and money with the KitchenAid 5-Speed Diamond Blender.
---
KitchenAid 5 Speed Diamond Blender
This unique blender uses a diamond blending system that helps you blend anything easily and conveniently. The great thing about this blender is it has an Intelly-Speed Motor Control that senses what you put inside the blender that will help you blend efficiently by maintaining the optimal speed needed for your blending needs.
With the 5 blending modes, you can blend through your ingredients and create delicious recipes in no time. You can choose from mix, chop, stir, puree, and even liquify. You will instantly love this blender because it is BPA-free which removes all health concerns regarding the plastic used in the blending cup.
6 reasons to buy the KitchenAid 5-Speed Diamond Blender
1. It looks stunning
The KitchenAid 5-Speed Diamond Blender in Empire red is a stunning blender that stands out among all the other blenders and will surely stand out from your other kitchen appliances. If you got other KitchenAid appliances, this will surely complete your amazing collection of KitchenAid gadgets.
2. It is BPA-Free
There are plenty of blenders on the market but not all offer BPA-free parts. It is especially important to choose kitchen appliances that are BPA-free since you are working with food.
3. It is sturdy 
KitchenAid is known to produce sturdy and long-lasting appliances that will last you a lifetime and this blender is no exception. What we love about this is it is scratch, stain, and shatter-resistant. It is the best tool in the kitchen as it makes blending worry-free and it will surely last you plenty of cooking years.
4. It has 5 blending options
We love appliances that have multiple functions. This blender has 5 blending options that you can utilize in different ingredients and recipes. You will never run out of ways to use this blender so you will get value for your money.
5. It is easy to clean
Do you hate it when a kitchen gadget takes so much time to clean or needs special cleaning materials? Well, this blender is easy to clean, just pop it in the dishwasher. Its metal base is also made with die-cast material that is also easy to clean by just wiping the touch control panel.
6. Customer service is awesome
KitchenAid is a trusted brand not just because of their great and awesome appliances that will last you almost a lifetime, but also because of their customer service that comes with their warranty. This blender comes with a 5-year warranty so you can rest assured that you will have support if ever you encounter a problem with your KitchenAid blender.
---
Learn more about the KitchenAid diamond blending system for optimal ingredient blending:
---
---