Traditional and Bold
Folger's coffee is highly popular throughout North America, including the Mexican and Canadian markets. With its strong reputation, we just had to check out their 1850 coffee.
Made with rich 100% Arabica beans, this dark roast blend hints at notes of deliciously rich dark cocoa. Using traditional techniques, the Black Gold offers you a bold, unapologetic caffeine fix to kickstart your day.
So, let us change your life and introduce you to Folger's Black Gold blend!
Folger's 1850 Coffee
Overview
Every true coffee addict knows that a high-quality experience starts long before you taste your favorite cup of java. The chic blue packaging, with minimalistic gold and white accents, draws you into a realm of stylish luxury, hinting at more to come.
When you open the packet, an explosion of rich aromas, including cocoa, berry fruits, and dark loam, prove that this premium blend is so much more than just coffee. Treat your taste buds to the deep complexities of notes – sweet cherry, dark vanilla, and possibly even a hint of treacle-like rum, hitting the back of your palate.
Of course, there is no need to mention that this product is the ultimate example of value for money!
Customer Opinions
Most coffee lovers that have tried Folger's never look back and keep their beans under lock and key, to be enjoyed on special occasions only – or when everyone else is out!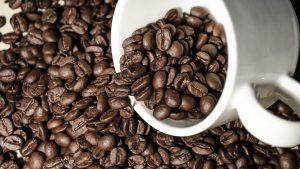 Packaging
Folger's have mastered the craft of refined nostalgia. Black Gold appears to be completely professional, yet evokes feelings of heart-warming memories. This amazingly aromatic blend is wrapped by a navy blue packaging with gold and white elements, proving that coffee is not just pleasing your taste buds, but your eyes as well. While the daring '1850' font allows feelings of indulgence, style, and vintage chic to come to the fore.
Coffee Quality
The fine granules are steel-cut, made from 100% Arabica beans, fire-roasted to bring out their sweetness! Medium-dark in color, Folgers offers a lightweight, almost powder-like coffee, providing you with an easy brewing process.
If you are a fan of a strong, powerful coffee, this will be your perfect wake-up call!
Last Thoughts
Folger's 1850 coffee offers perfection in a cup. Its design, taste, smell, and the experience it provides will take you to a new dimension of coffee drinking. Believe us, after trying it, you'll give Folgers 1850 coffee 10/10.
---
While Folger's coffee can be prepared without a coffee maker, the best bet is to use a high-quality drip coffee maker for the perfect cup.
However, if you don't have a coffee maker or don't have access to one while on the move, here's a YouTube video showing you how to make different types of coffee using various methods that don't include a coffee maker.
---
---