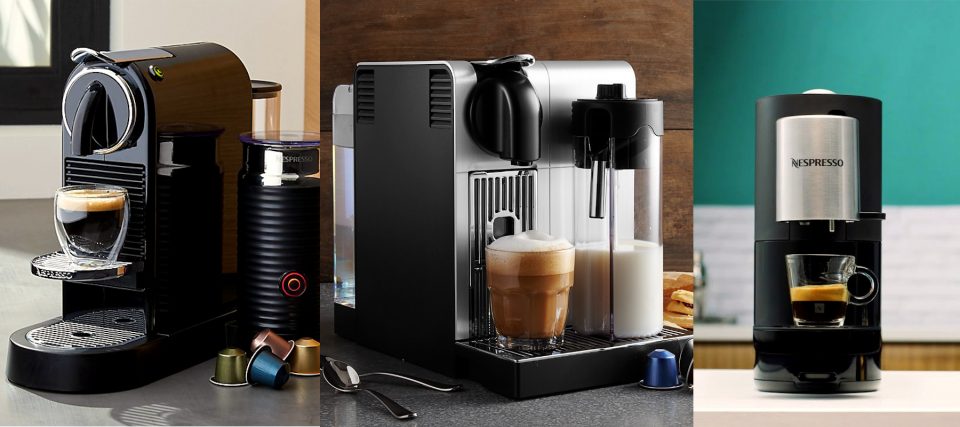 Nothing beats the convenience of Nespresso machines. Simply load your favorite Nespresso pod on the slot, press a button, and you'll have a steaming cup of coffee in just a few seconds. It's quick, easy, and mess-free!
If you want to experience the same comfort, take a look at our favorite picks among Nespresso's extensive lineup of machines and choose the right one that would work the best for you!
---
01) DeLonghi Nespresso CitiZ
4 new from $315.00
6 used from $239.99
Free shipping
as of June 8, 2023 7:13 pm
If you want to try brewing different espresso-based drinks yourself, we highly recommend the CitiZ Espresso Machine Bundle with Aeroccino Milk Frother by DeLonghi. This machine gives you a taste of barista-style espresso shots and coffee in every brew. The Aeroccino quickly froths your milk in seconds, which you can add to a shot of espresso for a creamy cup of cappuccino or latte. The cup size can easily be adjustable so you can enjoy a cup of lungo or ristretto. Another thing that we love about the CitiZ is its auto-off feature that takes effect after 9 minutes of inactivity, which significantly saves money and energy.
---
02) Nespresso VertuoPlus Coffee and Espresso Machine
4 new from $169.00
6 used from $125.48
Free shipping
as of June 8, 2023 7:13 pm
Nespresso VertuoPLus Coffee and Espresso Machine offers a whole new level of brewing pods. This machine uses VertuoLine cups that have a barcode located under the rim. The machine will adjust the brewing process depending on these codes, and all you have to do is press a single button to prep your drink! It's a hassle-free way to enjoy the different flavors of VertuoLine cups. The water tank behind the machine can also be swiveled, which makes it easier to fit on your counter space. What's more, it comes at a very affordable price as well! If you want an effective but budget-friendly Nespresso machine, then this one's for you!
---
03) Nespresso Inissia Machine
If you have limited counter space to brew just a single shot of espresso, a compact device such as the Nespresso Inissia Machine is the right one for you. With a height of 23 cm, a length of 32 cm, and a slim width of 12 cm, it can fit even the most cramped kitchen counter. But don't think that its size is equivalent to a bad performance! Despite having a small build, this machine is able to produce a robust and delicious shot of espresso. Controls are pretty straightforward, and a power saver mode conserves energy by automatically shutting off after 9 minutes of inactivity.
---
04) Nespresso Lattissima Touch Machine
13 new from $365.99
10 used from $199.00
Free shipping
as of June 8, 2023 7:13 pm
For all your espresso needs, the Nespresso Lattissima Touch Machine is an all-around coffee maker that can instantly brew 6 recipes with just a single press of a button: espresso, cappuccino, latte, latte macchiato, warm milk, and regular coffee. To froth the milk, simply fill the reservoir and out comes a stream of foamy milk without having to hold the cup, unlike most automatic espresso machines with a steam wand. A sliding drip tray also lets you brew directly into different sizes of cups and glasses. It's a fool-proof way of making espresso-based drinks in just under a minute!
---
05) Nespresso Pixie Espresso Maker
4 new from $192.49
2 used from $178.12
Free shipping
as of June 8, 2023 7:13 pm
The Nespresso Pixie Espresso Maker is the one of the brand's first machines with a compact and tight design, and a number of homebrewers still swear by this machine to make them a shot of espresso or lungo. It can easily fit under a kitchen cabinet, your office desk, or even in a dorm room! To prepare your drink, simply push either one of the two buttons for Espresso and Lungo, and the machine will brew your drink in less than 30 seconds. After 9 minutes of inactivity, the machine will automatically turn off, a very useful feature to save both money and energy!
---
We know Nespresso coffee lovers have a difficult time parting from their favorite coffee, but we have found that other flavored coffee beans are the easiest and best transition. Top your delicious cup of flavored joe with the best coffee syrup and you're guaranteed to have an incredible start to the day!
---
---