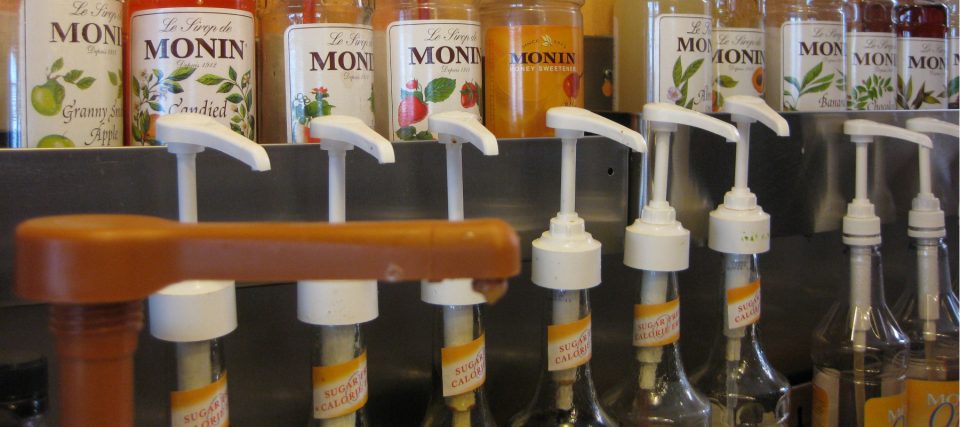 Coffee syrups are a popular choice when it comes to changing up the flavor of your beverage, and are frequently ordered in cafes, but with the addition of syrups to your local supermarket shelves, you can get the authentic coffee-house taste at home.
---
01) Torani Variety Packs
Torani is one of the most recognizable coffee syrups ever and with its variety 3-pack available with the most popular flavors of vanilla, caramel, and hazelnut, it's a budget-friendly option.
The 25.4 oz. bottles will keep the average user in syrup for months, and goes wonderfully with numerous types of beverages, including lattes, mochas, cocoas, teas, lemonades, cocktails, and smoothies! This product is made and distributed in the United States, which ensures Torani's high production quality.
---
02) DaVinci Gourmet Syrups
DaVinci Gourmet Syrups are a familiar name and have been manufacturing quality syrups since 1989. Available in packs of 4 bottles, they add a decadently rich vanilla flavor to your beverages. Made with only the freshest vanilla beans and pure cane sugar – no artificial sweetener, you can enjoy the guilt-free pleasure that this gives you.
---
03) Autocrat Coffee Syrup
11 new from $20.49
Free shipping
as of September 21, 2023 5:06 am
No matter how much coffee syrup you need Autocrat has got it for you! Available in packs of 2, 3, 4, and 10 32 oz bottles, it is famously used to create coffee milk also known as the Official State Drink of Rhode Island. This cup of deliciousness has a similar flavor to sweet chocolate milk, but with the caffeinated kick of your cup of java.
Whether you chose the Rhode Island special, or add the syrup to your regular coffee, this is a great choice to keep in the cupboard.
---
04) Sonoma Syrup Co.
$

42.85
check latest price
3 new from $42.85
Free shipping
as of September 21, 2023 5:06 am
Sonoma Syrup Co.'s special blend of vanilla bean extract looks luxurious, and tastes it too! Containing natural vanilla seeds,  it offers a sweetly rich, deep flavor that you can enjoy mixed in with any beverage you wish.
This vanilla bean extract is also popular in baked goods, such as brownies or cookies that need that extra vanilla kick. Try it in different beverages like coffees, cocoas, teas, lemonades, cocktails, and smoothies, and you'll really enjoy the natural vanilla taste sensation.
---
05) Upouria Caramel Syrup
Upouria's caramel syrups are the choices of coffee houses across the country, and now you can enjoy them at home, too.
These syrups are sold with the pumps, which means they are ready for use right away! Each bottle is 25.4 oz., perfect for your coffee, cocktails, smoothies, and more. Made with all-natural flavors, they contain no artificial sweeteners, are 100% vegan and gluten-free, and are Halal and Kosher certified. Enjoy the delicious flavors from Upouria, guilt-free.
---
---
---