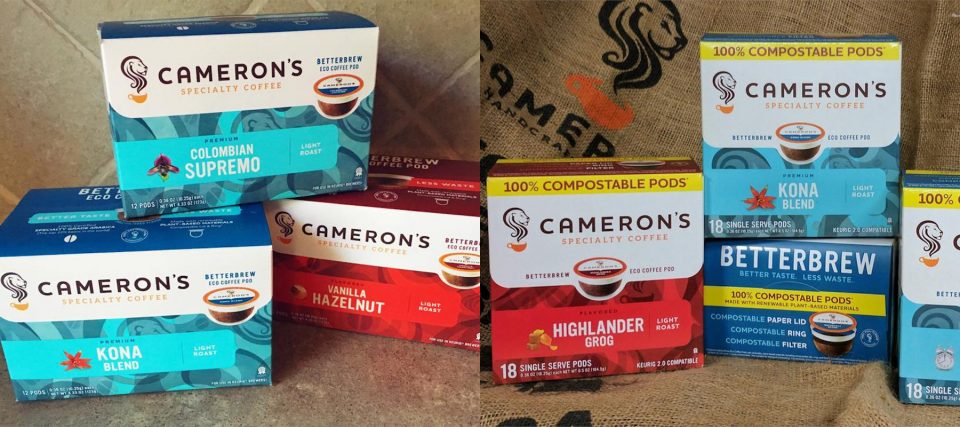 ---
Cameron's Coffee is a uniquely handcrafted coffee that gives you the smoothest and most flavorful coffee you'll ever find out there. Not only is it a great tasting brand of coffee, but it also stands for so much more in the coffee business. It's a brand that values both quality and sustainability, making their coffee both delicious and guilt-free in various ways, from how it's grown, how it's roasted, and how it's packaged.
Health-wise, it's great even without milk, creamer, or sugar, so it's a healthy energy boost. Environment-wise, all its beans are from self-sustaining organic coffee farms. But even if you didn't care that much about where your beans come from, every 32 ounce bag of Cameron's Coffee, especially their amazing Vanilla Hazelnut Blend, are absolutely delicious.
In particular, this Vanilla Hazelnut Blend brings together premium Arabica beans, rich vanilla, and zesty hazelnut that is far from the plain vanilla coffee you get everywhere else. You can order a 32 ounce bag of Cameron's Vanilla Hazelnut Blend and be able to have delicious coffee in your own home every single time. It's guaranteed to never be over-roasted.
Founded in 1978, Cameron's Coffee has established themselves as a specialty coffee brand who cares about quality and flavor. They source and purchase specialty-grade Arabica beans from around the world and roast them in small batches by themselves. This lets Cameron's create their own flavor that stays true to their brand and vision as a specialty coffee company.
The aim of Cameron's is to create coffee that pleases both casual drinkers and even the snobbiest of coffee connoisseurs. Having good coffee that's always smooth and never bitter that can please everyone and make their day better is a goal that Cameron's always strives to achieve. Even upon achieving a level of success that few could ever imagine, they still stay true to this vision of a coffee brand that chases perfection.
The Roastmaster of Cameron's Coffee carefully selects from their 100% specialty-grade Arabica beans that are guaranteed to be in the top 10% coffee beans in the world, which are organically grown and handcrafted. From that, they then roast them in small batches to make sure that they make for a more consistent roast and use as little energy as possible during the process.
Cameron's Coffee is known for their variety in coffee products, from classic staples to organic blends and flavored coffees. Whichever you choose, you are guaranteed a smooth and delicious cup of coffee that doesn't have to be covered by other things like copious amounts of sugar and cream to hide crimes committed to the coffee beans during the roasting process.
Unlike Starbucks, which can taste bitter and burnt without all the other stuff added to their coffees, Cameron's Coffee is as good as you can get when it comes to coffee beans. Instead of being mass produced and marketed by a franchise that has become too big for its own good, Cameron's Coffee employs people who truly care about good coffee.
Cameron's Coffee Roasted Ground Coffee Bag, Flavored, Vanilla Hazelnut, 32 Ounce
2 new from $8.40
Free shipping
as of July 27, 2021 4:23 pm
---
---
---