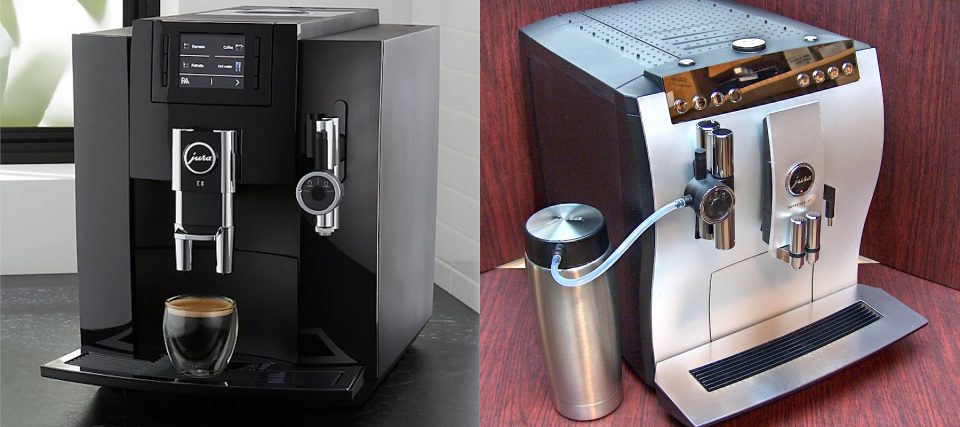 If there's a cream-of-the-crop brand of espresso machines, it's definitely Jura. While most would steer clear of the brand's products due to the pretty expensive price tag, expert baristas and ardent homebrewers swear by Jura's espresso machines for their excellent performance. We know you're here to see what these top-notch devices can do, and we're more than delighted to share with you our favorite Jura coffee machines, along with our favorite espresso beans! Keep reading, and you'll find the right one that would work the best for you.
---
01) JURA Z8 Automatic Coffee Machine
The Jura Z8 Automatic Coffee Machine boasts an innovative design that combines modern convenience with an exquisite coffee experience. It has a high-resolution 4.3″ color touchscreen that lets you brew up to 21 beverages—including a whole pot of coffee—in a breeze. What's more, 16 of these are fully programmable, allowing you to tweak the recipe from the volume, temperature, and even the name of your drink to your liking. And have we mentioned that you can do all this with your phone? It has a Smart Connect Feature that connects your phone with the machine via the JURA Coffee App. Definitely worth it!
---
02) Jura 15070 E6 Automatic Coffee Center
For the ultimate espresso machine kit, choose the Jura E6 Automatic Coffee Center. The whole bundle includes the machine itself, a frothing pitcher, a glass milk container, 2 cups and a saucer, a Smart Filter Cartridge, and 1lb of Capresso East Coast Blend Whole Bean Coffee. Basically, everything you'll need to be an at-home barista! It's easy to operate as well thanks to its touchscreen display. To control the E6 using your mobile phone, you can purchase the Smart Connect Customized Coffee Experience via Bluetooth as an add-on accessory. It's also compatible with Siri, allowing you to brew your favorite drink using voice command.
---
03) Jura WE8 15145 Automatic Coffee Machine
16 new from $2,368.00
Free shipping
as of September 20, 2023 5:05 am
If you're looking for a new espresso machine for your office, the Jura WE8 Automatic Coffee Machine is the perfect pick for its larger water and bean capacity. The water reservoir can hold up to 100 oz while the hopper can contain about 17 oz of beans, which yields more than enough coffee for everyone during lunch time. The whole process of brewing your drink only requires pushing the buttons around the TFT color display, and you'll have a steaming cup of coffee in just a few seconds. With these features, it's definitely the perfect machine for serving coffee to a large crowd!
---
04) Jura S8 Superautomatic Touchscreen Espresso Machine
21 new from $2,798.00
Free shipping
as of September 20, 2023 5:05 am
Keeping an espresso machine at peak performance can be a lot of work, especially if it requires
manual cleaning. If you want to reduce the time and energy needed to clean your machine, consider switching to a Jura S8 Automatic Coffee Machine. To clean your brew group, simply drop a cleaning tablet into the pre-ground coffee shoot, and it will administer the cleaning process all on its own. The machine also tells you when to do this, so there's no need to write a memo on your calendar for cleaning day. The water reservoir also has a built-in CLEARYL Smart Filter that removes chlorine or other contaminants that might affect the flavor of your drink. Amazing, right?
---
05) Jura 15068 IMPRESSA C65 Automatic Coffee Machine
Jura machines tend to have a bulky build due to the numerous features that it has to compress in a single unit. This can be a problem if you have a very limited counter space. If this is your concern, we highly suggest the Jura IMPRESSA C65 Automatic Coffee Machine. It cuts out all the optional and unnecessary features and retains only the most important ones which includes a height-adjustable coffee spout, customizable coffee strength, Thermoblock heating system, a fine foam frother, a compact water reservoir and bean hopper, and a quick one-switch operation. If you want to have the Jura experience without paying twice the amount of money, then the C65 is for you!
---
---
---