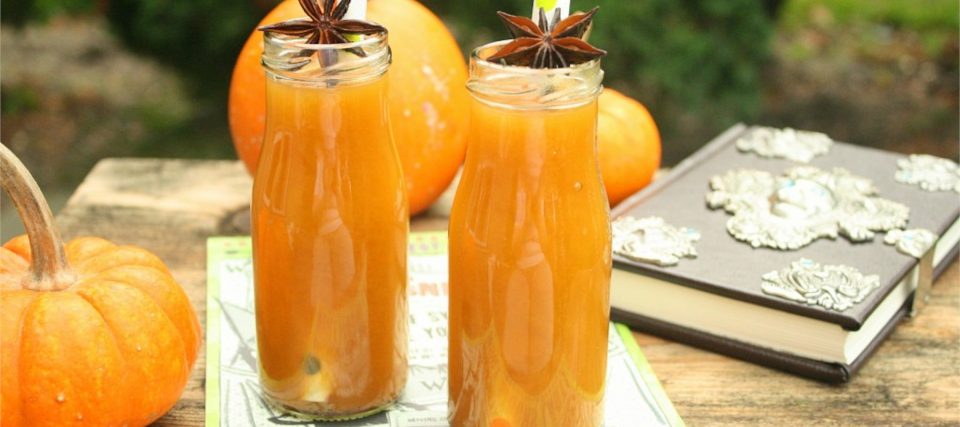 Autumn is never over in our hearts and taste buds, that is how much we love everything pumpkin-pumpkin smoothie, juices, coffee, pie, and more.
Pumpkin juice is an unusual treat, but a very worthwhile one. All you need is a high-quality juicer, some pumpkin, and you're all set.
Stores may move on from pumpkin season but we are not yet over it. Our tip, make it in your very own home. We have pumpkin juice recipes that will tickle your taste buds and will let autumn stay longer. 
---
Benefits of drinking pumpkin juice
Pumpkins are a very nutritious and tasty source of vitamins like Vitamin A. Just an ounce of raw pumpkin can give you your daily need for Vitamin A. It is a great drink to improve and take care of your eyesight and skin.
Aside from Vitamin A, pumpkins also contain a great amount of Zinc, antioxidants, and Vitamin C which helps you get clear and smooth skin.
The funny thing about pumpkins is that they can turn your skin yellow if you consume too much of them. As much as you love pumpkins drink pumpkin juice moderately.
There are many ways to make pumpkin juice and one of the ways is to juice it.
How to juice a pumpkin
Wash your pumpkin and cut it into halves. 

Scoop out the pulp and seeds.

Peel and cut the pumpkin into small chunks that fit your juicer.

Juice it.

Once you have your pumpkin juice, it is time to make delicious pumpkin juice recipes with it.
---
Pumpkin and Carrot Juice
Pairing Pumpkins and carrots are the best way to get your dose of vitamin A every day.
Ingredients:
1 pumpkin

3 carrots

½ teaspoon cinnamon 

1 apple

½ ginger root
Directions:
Juice your pumpkin

Wash, peel, cut, and juice your carrots

Wash and peel the ginger and juice it.

Add the cinnamon powder and ice if preferred.

Serve fresh or even frozen.
---
Pumpkin and Cider Juice
Ingredients:
6 tablespoons pumpkin puree

32 oz apple cider

 10 oz peach nectar

 ¼ teaspoon ground cinnamon 
Directions:
Put the pumpkin puree, apple cider, peach nectar, and cinnamon in a blender. Close the blender and run it until the ingredients are all mixed.

You can place it in the fridge to chill or serve it with ice.

Another option is to blend all the ingredients with ice to create a smoothie.
---
Pumpkin banana milkshake 
Ingredients:
6 oz pumpkin puree

1 frozen banana

4 oz Greek yogurt

4 oz skim milk

¼ teaspoon cinnamon powder

¼ teaspoon pumpkin pie spice

2 tablespoons maple syrup or honey

Optional whipped cream and sliced bananas for topping
Directions:
Add all ingredients in the blender except for the whipped cream and sliced bananas for topping.

Add ice and blend. Add extra milk if the mixture becomes too thick.

Serve with more ice and top with whipped cream and sliced bananas.
---
Bonus recipe:
If you love Harry Potter then you should make this Pumpkin Drink. This is a big batch so feel free to half the recipe. It is a very easy recipe and you can easily adjust the sugar if you do not want it to be too sweet.
Ingredients:
135 oz apple juice

15 oz pumpkin puree

4 oz sugar

4 oz brown sugar

2 teaspoons pumpkin pie spice

2 teaspoons vanilla
Directions:
In a large pitcher combine all the ingredients and stir well until all sugar is dissolved.

Serve over ice.
---
Want more super healthy juice recipes? Check out our carrot, orange and pineapple juice, or the best green juice recipes!
---
Take a look at an additional pumpkin juice recipe video for healthy and glowing skin.
---
---