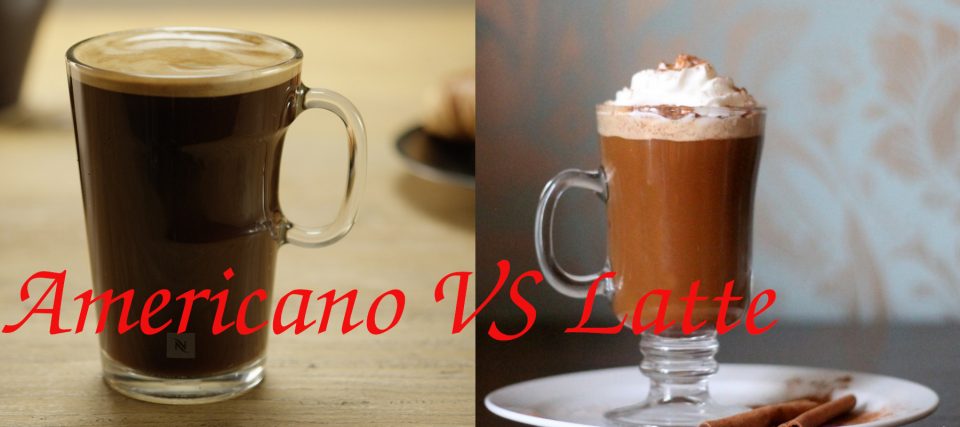 Waking up is best accomplished with the smell of freshly brewed coffee. If not, then you most likely run out of your house to grab a cup of a waking-jolt espresso at your favorite coffee shop. Everybody loves coffee, from its wonderful deep scent to its sophisticated taste, to its amazing capability to wake us up and give us a mood-boost when we are feeling down.
There is a wide variety of coffee drinks that coffee lovers could enjoy and despite all the crazy concoctions of brand name coffee shops we always go back to the usual espresso, americano, and latte. If you do not know the difference between americano and latte we will break it down for you. Both drinks start with an espresso base which gives each drink a distinctly strong and deep coffee flavor. If you are wondering which of these drinks you should get then read on.
Americano in simple terms is a base of one to two shots of espresso with hot water. It is a classic drink that is great for enjoying the splendid taste of espresso without having to drink it in one shot. The hot water helps keep the espresso's crema from going dead. There are two ways you can prepare an Americano drink and the only difference is which liquid you are putting in the cup first. If you put espresso in the cup followed by hot water then the crema will dissipate in the water. If you put the hot water first then followed by the espresso you will keep the crema intact.
A cup of latte has 3 ingredients; espresso, steamed milk, and milk foam. It is a creamier drink compared to Americano and has a silkier texture too. It is a great drink if you want to avoid adding sugar to your drink but you do not want the harsh and direct taste of Americano. Lately, there has been a renewed interest in lattes because of its beautiful look that is suited to Instagram. Baristas showcase their craftsmanship through latte art that features different figures made by slowly pouring in the milk to the espresso.
Both Americano and lattes are great drinks that are suited for a more direct intake of espresso. It only boils down to preference on which drink should you get while you are in a coffee run. If you prefer a drink with dairy and velvety texture then you should get a latte. Have your barista make you a one of a kind latte art while you are at it. If you are out on a quick coffee run, get an Americano.
VIDEO: 3 SIMPLE CLASSIC ICED COFFEE RECIPES: AMERICANO, CAFÉ LATTE & CAPPUCCINO
Read More: The Difference Between Cappuccino Vs Latte Vs Macchiato [New 2021]
Read More: Mocha Vs Macchiato – How Different They Are? [New 2021]
Read More: Iced Latte Vs Iced Coffee – The Differences [New 2021]
---
---