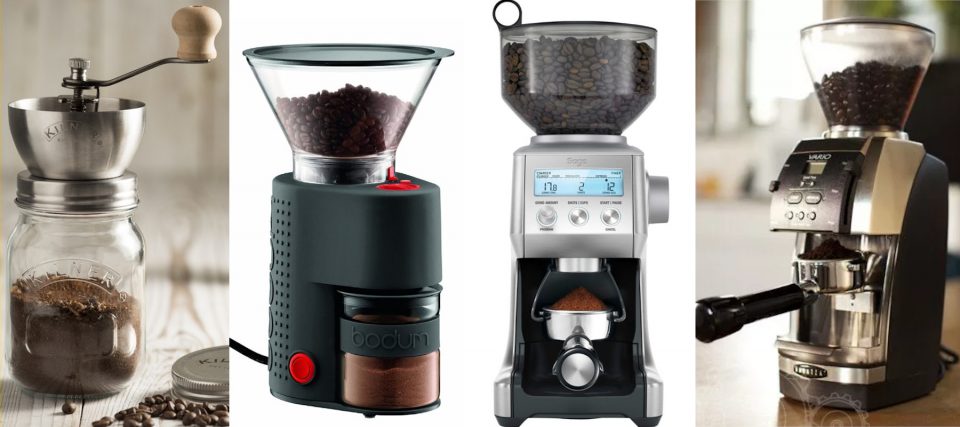 Freshly ground coffee beans are definitely far more superior to pre-ground or even instant coffee. This is because freshly ground coffee has a distinct aroma and an exquisite flavor that the former varieties simply can't and don't have. Coffee begins to lose its flavor and properties as soon as its ground and long-term storage inevitably alters its taste.
Freshly ground coffee is a luxury that most people indulge in during a visit to the local coffee shop, but this pleasure comes at a certain price point. However, the good news is that it's definitely not impossible to bring the experience, taste, and richness of freshly ground coffee to your own kitchen. The first thing you need, of course, is premium coffee beans (or espresso beans if you prefer a stronger taste). Next, you'll need a reliable and affordable coffee grinder. Fika NYC has reviewed five high-quality coffee grinders at a price point you certainly won't be able to resist!
Without further ado, take a look at our favorite budget coffee grinders, ideal for money-conscious coffee lovers:
---
01) JavaPresse Grinder
Do you want to enjoy your coffee the old-fashioned way? The JavaPresse Grinder lets you grind your beans manually for better control of the grinding process. Its 18 click settings ensure consistency and precision to preserve the original aroma and flavor of the coffee beans. It's much quieter than electric grinders and easier to travel with thanks to the ergonomic design of its detachable hand crank. This way, you can now brew freshly ground coffee beans at work! Whether you're buying this for yourself or for a friend with the same affinity for coffee, it's definitely worth the purchase!
---
02) Hamilton Beach Fresh Grind 4.5 oz Electric
24 new from $16.90
1 used from $17.25
Free shipping
as of September 20, 2023 10:09 am
For easy clean-up, the Hamilton Beach Fresh Electric Grinder has a dishwasher-safe grinding chamber that easily pops off the grinder. The detachable chamber can grind up to 12 cups worth of coffee beans and does so quietly compared to bigger coffee grinders. No need to worry about storage as well, because it comes with a hidden space to wrap the cord around neatly when not in use. Better yet, it's our most affordable item on the list! Freshly ground beans sure is a luxury, but it doesn't have to be very expensive. If you're looking for a coffee grinder without the hefty price tag, this one's for you!
---
03) KRUPS GX5000 Burr Coffee Grinder
Burr mills provide a more consistent grind than blade grinders. This means you also get consistency in terms of flavor every time you brew a cup of coffee. This feature is what makes the KRUPS Burr Coffee Grinder an excellent appliance, ensuring the same quality in every grind. You can also customize the grind texture by simply twisting the dial at the side. Loading in bulk is also possible by filling the 8 oz clear bean container and grinding a specific amount of beans depending on how many cups you need to fill. With its price and impressive features, this electric grinder is definitely a steal!
---
04) Chefman RJ44-A2
4 used from $28.69
Free shipping
as of September 20, 2023 10:09 am
Chefman is known for their high-quality home appliances with very affordable prices, and a great example is their electric grinder that also uses a burr mill system. The burr disc provides a uniform grind texture without losing the natural flavor and aroma of the coffee bean. Its slim build also saves a lot of space on your countertop that could have been used for other appliances. The controls are pretty straightforward and easy to use as well, making it a great gift for any loved one with the same enthusiasm for coffee as you. Buy this as a gift, and they'll surely be delighted!
---
05) Black + Decker CBG100s
Looking for an all-in-one grinder for your coffee beans and herbs? This compact electric grinder by Black+Decker uses sharp stainless steel blades that can easily grind your favorite coffee beans, grains, herbs, spices, nuts, and more! It's a versatile kitchen appliance that provides you the luxury of freshly ground coffee beans and crushed ingredients for your next recipe. The Push-Button Pulse Control also provides more control on the grind consistency, so you can immediately stop or continue grinding until you achieve your preferred texture. Its grinding bowl can also hold up to half a cup of coffee beans, which makes it compatible to use even with large coffeemakers. Definitely a great deal!
---
Did you know that the way you grind coffee beans and what grinder you use to grind them with can all affect the taste and quality of your coffee? Check out this simple guide to grinding your coffee beans in the best way possible:
---
---