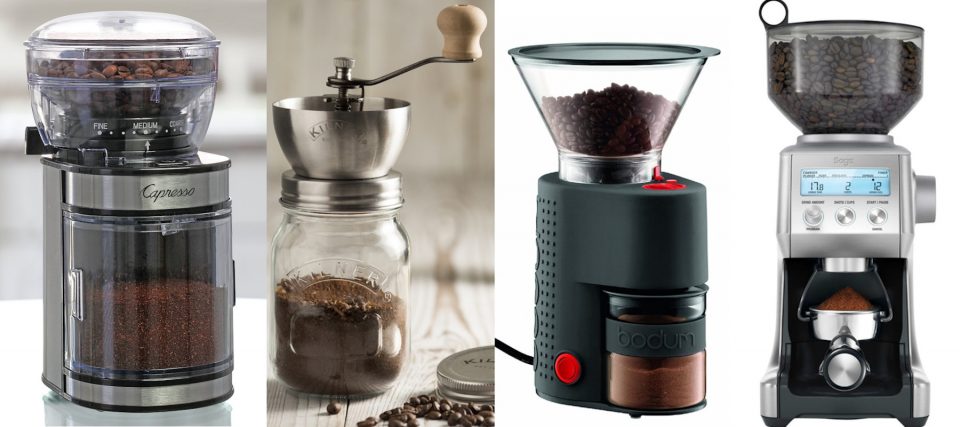 Every coffee drinker knows that a burr grinder is essential to release the rich earthy aroma of freshly ground coffee beans, enhancing the whole coffee experience.
A good grinder is durable, easy to clean, and gives a consistent grind. Here are our top 5 picks for a good burr grinder:
---
01)

Baratza Virtuoso+ Conical
15 new from $249.95
1 used from $187.46
Free shipping
as of June 8, 2023 7:13 pm
This Baratza Virtuoso+ coffee grinder is fitted with a digital timer display to ensure the precise grind time of your coffee beans. The modern silhouette looks sleek and fits in any kitchen. Baratza grinders are critically acclaimed and preferred by coffee professionals and baristas all around the world. This model features an LED-backlit grounds bin to make it effortless to see the coarseness of the grounds and ensure uniformity.
With 40 grind settings you can explore a myriad of varieties in your coffee beans, and prepare them for different brewing methods including espresso, Aeropress, French press, and others!
---
02)

Bodum Bistro
5 used from $60.71
Free shipping
as of June 8, 2023 7:13 pm
The Bodum Bistro burr grinder comes in 3 different colors in both classic and unique styles! Available in black, white, and red, this is sure to match your other kitchen appliances easily! Housing stainless steel conical burrs, the beans are ground to a precise and uniform coarseness. A push-button triggers the preset timer so you can get exactly the amount of coffee grounds you need on demand! The perfect amount with no throwaways and your coffee is freshly ground every time.
12 adjustable grind settings help you prepare for any brew method, whether that be espresso or French press! The borosilicate glass catcher helps lessen the static cling of coffee grounds, leaving you with perfectly ground coffee every time!
---
03)

Capresso Infinity Conical Burr Grinder
The Capresso Infinity conical burr coffee grinder holds up to 8.8 oz of coffee beans. The sleek look is not only beautiful, but functional, making it easy to peek at the amount of beans and grounds in the machine. The solid steel conical burrs are designed to cut the beans precisely and come out with consistent coarseness. This machine can prepare your grounds for French press coarse, to everything finer and in between!
The gear reduction motor grinds reduce the noise produced and minimize the static build-up. The removable upper burr of this appliance makes it effortless to clean. Grinding coffee made sleek, stylish, and snappy!
---
04)

OXO BREW
9 new from $99.60
1 used from $84.00
Free shipping
as of June 8, 2023 7:13 pm
The OXO Brew conical burr coffee grinder has durable 40mm conical burrs to give you those uniform grounds no matter the coarseness.  The 15 grind settings (and additional micro settings) can help you attain the optimal flavor extraction for any brew method you desire!
No more tediously inputting your preferred settings each time you grind, this appliance remembers your settings and applies it for every succeeding use! The one-touch function makes it that much faster to grind your coffee how you want! Now you only need to adjust it only when you're in the mood for something different!
---
05)

Chefman Electric Burr Mill Coffee Grinder
3 used from $28.78
Free shipping
as of June 8, 2023 7:13 pm
The Chefman electric burr coffee grinder has a contemporary block design, sleek, and chic! With 17 grind options, you can choose how you want your beans, and suit it to your proffered brewing method. The large hopper can hold up to 2.8 ounces of coffee beans, ready to make enough grounds for anywhere from 2-12 cups!
Easy to use and the container and burr grinding disc are detachable for an effortless clean-up, too!
---
---
---