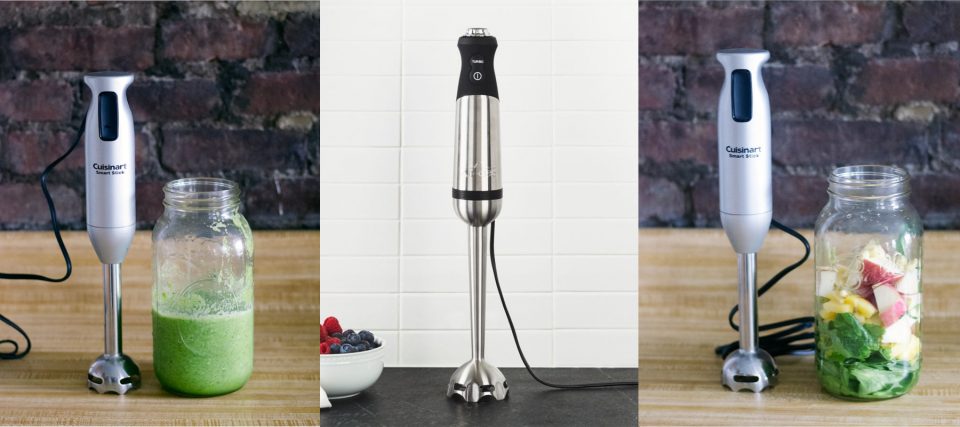 If you love thick smoothies and cream soups, but simply don't have the time, the perfect solution is an immersion blender. Why is it different from a regular blender, you may ask? Well, it's because it's easy to use, it takes up negligible space in your kitchen, and it doesn't require you to transfer your fruits and veggies into several utensils and bowls in order to blend it. Basically, all you have to do, as the name suggests, is immerse the hand held blender into a bowl or pot, turn it on, move it around for a minute or two and voila – a perfect smoothie or soup!
One of our favourite advantages of the immersion blender is avoiding a big mess in the kitchen. Regular blenders are difficult to clean and many of their parts are not dishwasher safe. On the other hand, immersion blenders can just be rinsed under running water and then placed in the dishwasher!
The immersion blender doesn't only have to be used for soups and smoothies – you can also use it for sauces, baby food, salad dressings, and much more. Basically, the options are endless with an immersion blender and if you don't have one in your kitchen already, you're missing out.
We've reviewed the top 5 immersion blenders on the market so you don't have to do the research. Check them out:
---
01) Breville Control Grip Immersion Blender
Immersion blenders are great kitchen gadgets that are very versatile and super useful in making soups and sauce from different ingredients. We recommend the Breville BSB510XL Control Grip Immersion Blender because of its ergonomic shape that makes it easy to grip and reduces hand strain when blending. It is very easy to control and use and it has a long body that makes it easy to use with tall pots. Another great thing about this immersion blender is it has a non-scratch base that helps prevent scratching your beloved pots while blending. It also comes with a 1 year warranty when you purchase this immersion blender.
---
02) Cuisinart CSB-179 Smart Stick Hand Blender
12 new from $66.99
4 used from $49.95
Free shipping
as of September 20, 2023 1:05 pm
The Cuisinart CSB-179 Smart Stick Hand Blender is a durable kitchen stick blender that provides a powerful blending performance yet with less noise compared to other blenders. It has a low and high speed controlled by a dial. It comes in two colors; stainless steel black and stainless steel red. It is perfect for home cooking as you can make a wide variety of recipes such as homemade mayonnaise, meringues, and other whipping and blending needs. The package comes with a measuring cup, a whisk attachment, and a grinder attachment. It is versatile and handy because now you can blend easily directly on your pots.
---
03) KitchenAid KHB1231 2-Speed Hand Blender
If you love colors or you love KitchenAid appliances in general then you should get the KitchenAid KHB1231 2-Speed Hand Blender. It comes in 13 fun colors that can match any kitchen. It is easy and straightforward to use and it comes with a soft grip handle that is very comfortable to handle and control. It is great for making smoothies, soups, and even baby food. The package comes with a blending cup with a lid that you can use for small scale blending and storage. The blending cup is also dishwasher safe so you can easily clean up afterward.
---
04) Cuisinart CSB-400CD SmartStick Cordless Hand Blender
If you are annoyed with cords and wires, you are not alone. Having a wired connection especially with hand blenders or stick blenders could be a problem especially if you often blend directly on a pot on your stove. The Cuisinart CSB-400CD Cordless and Rechargeable SmartStick hand blender solve all those problems because it is cordless and you will only need to charge it every time you need to use it for 20 minutes. Just like the regular hand blenders it is long and slim and packs a great power to blend through anything. The package comes with a measuring cup and a whisk.
---
05) Waring (WSB33X) 7″ Light-Duty Quik Stik Immersion Blender
3 new from $115.00
Free shipping
as of September 20, 2023 1:05 pm
The Waring (WSB33X) 7″ Light-Duty Quik Stik Immersion Blender may look intimidating at first but it is very efficient in the kitchen. It is small and light which makes it a very convenient tool to have around the kitchen. Compared to other stick blenders this one is for light use so it is perfect for a kitchen that is not so busy. It can blend through soups and sauces efficiently which is great for small households or solo use. It is also compact and very easy to clean. It has two-speed options and it comes with a 1-year warranty.
---
If you're still on the lookout for a great immersion blender for you, then make sure you take a look at our review of the KitchenAid hand blender and the Braun immersion blender. They're slightly more premium than the immersion blenders reviewed on this page but are well worth it if you need a powerful reliable blender for preparing home-cooked meals for the entire family.
---
---