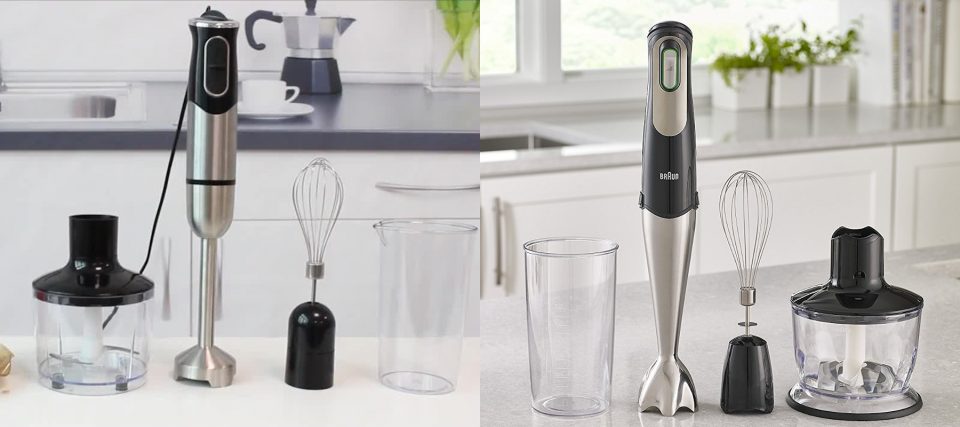 The immersion blender is the perfect appliance in the kitchen, designed for quick results for all kinds of recipes. The handheld nature gives you full control of the tool and its slender design is a big plus if you are low on space, especially if you don't have the room for a large blender on your kitchen counter. Being able to blend inside of the container your food is in, also gives the appliance the added bonus of convenience.
Braun, as one of the leading manufacturers in the appliance industry, has a longstanding reputation for quality and have earned their trusted seal. Whilst there are many brands of immersion blenders out there, Braun certainly is a leader in the market and that's why, here at Fika, we've decided to show you the best of these.
Whilst both home and commercial immersion blenders are available, we have focused on those perfect for your family kitchen and everyday needs.
01) Braun 2-in-1 Immersion Hand Blender, 350W Multi-Speed + Whisk
7 used from $55.96
Free shipping
as of September 20, 2023 7:13 pm
The Braun 2-in-1 immersion blender is unique in shape and perfect in size. With its bell-like design, it offers fast and precise results when used for blending or whisking. The turbo boost feature offers added power when required, making it easy to use the immersion blender to cater to differing needs depending on the recipe at hand. With a one click detachment, it is easy to remove and slot in the head and whisk, which helps with its multi functionality and makes it easy to keep clean.
The added anti-splash shaft helps to keep messy foods contained and this makes it perfect for quick smoothies and purees, or when whisking to beat eggs or flour well without the worry of cleanup. It also blends evenly and at its price point of $60, is a very affordable addition to any kitchen where cooking is of importance but space is a consideration.
02) Braun Immersion 350W Hand Blender & Baby Food Maker
Though fractionally higher in cost at just under $70, the Braun Immersion Blender and Baby Food Maker has the added advantage of being able to puree even smoother, due to its extra milling blade and larger cutting area, which works out a good trade off for those seeking a handheld bender with smoothness in mind.
With a soft grip handle, designed for comfort and to keep from slipping, adjustable speed and its 1.5 chopper cup which helps add texture to encourage the development of chewing muscles, this particular model definitely has been designed with mothers in mind and works great for breaking down various foods for the growing baby. Its capabilities though reach beyond this use and its powerful 350 watt motor gives it flexible functionality.
03) Braun 4-in-1 Multi-Speed Immersion Hand Blender
3 new from $88.15
5 used from $60.00
Free shipping
as of September 20, 2023 7:13 pm
For multiple functions, the Braun 4-in-1 Speed Immersion Blender is the perfect appliance to cater to most cooking tasks. With its stainless steel blades, turbo boost button and exclusive Braun Easy Click technology, it has impressive value for money for its increased capabilities.
With its durable whisk, 2 cup chopper, mashing attachment and beaker, this immersion blender has got sauces, soups, purees, smoothies and more covered and is particularly well-suited to the changing needs of a busy home kitchen, extending itself well to ease requirements in many recipes. Its ergonomic and sleek design is impressive too, making the appliance both comfortable and an appealing addition to the modern kitchen.
As an added bonus, this immersion blender is excellent at breaking through even heavily fibrous fruits and vegetables and blends to a highly smooth consistency.
---
While Braun is a highly reliable brand for many kitchen appliances, there are many other great immersion blenders to choose from. If you'd like to see more options, take a look at this KitchenAid hand blender.
---
---