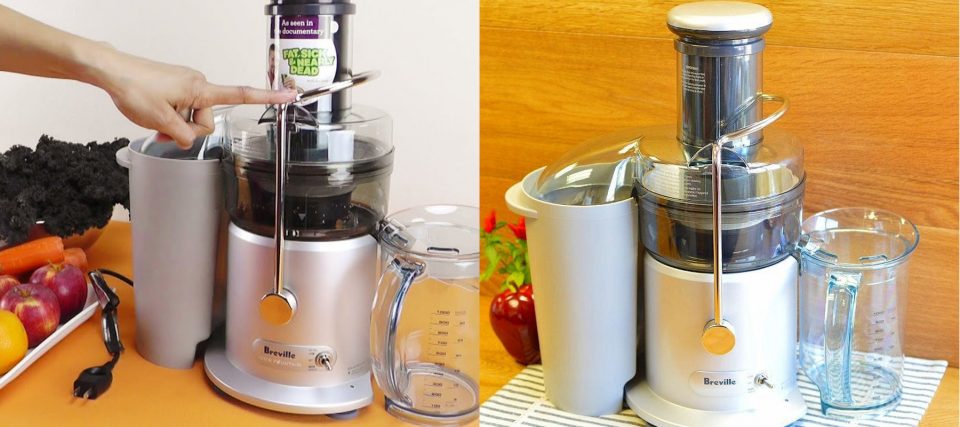 Aside from the technical specifications in regards to choosing the best quality appliances for the home, it is also important that we can trust the company that produces the products themselves. This is why at FIKA, we feel a good way to find the leading appliances is to look at trusted manufacturers and compare the best that each has to offer.
Breville has been established as a manufacturer of quality home appliances for over eighty years and is one of Australia's most trusted brands. Founded in 1932 in Sydney, the company have won numerous design awards for their extensive range of appliances and have become an internationally recognized leader in the market.
Although Breville is well known for many of its products including toasters, kettles, microwaves, and coffee machines, FIKA will focus on its top juicers in this guide.
---
01) Breville BJE200XL Juice Fountain Compact
7 new from $99.93
11 used from $70.41
Free shipping
as of September 20, 2023 7:13 pm
The Breville BJE200XL Juice Fountain Compact comes with a few key features which make it the perfect choice for those lacking in space or not wishing to spend a fortune on a juicer, but still wanting a quality appliance. Coming in as the lowest priced juicer on our list, at under $100, with its 700-watt motor, extra large/3-inch centered feeder tube, and heavy-duty body, it makes for an impressive addition in a kitchen aiming for cost-effective regular juicing and reduction in waste fruits and vegetables.
The sleek, silver space-saving machine is dishwasher safe and simple to keep clean with its easily disabled parts. It is also one of the most user-friendly juicers to use on the market and a particularly great feature is its ability to collect the waste pulp in the compact bottom, really living up to its design as the perfect countertop juicer, making it an all round great buy for its price point.
---
02) Breville JE98XL Juice Fountain Plus
8 new from $179.00
5 used from $141.88
Free shipping
as of September 20, 2023 7:13 pm
For an even more robust juicer, the Breville JE98XL Juice Fountain Plus proves to be a great midrange appliance, and with its larger body, can handle a larger quantity and more varied array of ingredients. It powers well through both fruits and vegetables and is impressively fast, making juice in a matter of seconds which works for busy kitchens or those who have early mornings to contend with. The Italian designed mesh filter helps this juicer retain more vitamins and minerals, also making this a great go-to for the more health-conscious consumer.
The wide chute adds efficiency and tackles both soft and hard ingredients but the overload protection feature also makes it easy to prevent damaging the machine with its automatic switch-off function setting in, to alert the user to the juicer being too full.
---
03) Breville 800JEXL Juice Fountain Elite
12 used from $208.55
Free shipping
as of September 20, 2023 7:13 pm
At the highest end of our picks for Breville juicers, is the 800JEXL Juice Fountain Elite. Although at its higher price tag ($299) it may not appeal to everyone, for anyone serious about juicing and needing a quality machine for frequent usage, this machine packs quite the punch and has a really impressive array of features.
In addition to featuring the stainless-steel micro-mesh filter to retain nutritional quality in the juicing process, a titanium plated cutting disk, a large feeder tube to fit whole fruits and vegetables, dishwasher safe parts, and overload protection, this juicer is also a powerhouse with its 1000 watt motor with varying speed control to handle the softest and hardest ingredients.
Added to this, the Breville 800JEXL Juice Fountain Elite is a speedy machine and produces very dry pulp with great extraction results, making for very easy cleanup and waste removal, which is often something we neglect when choosing the right juicer but can make for a time and money-saving investment.
---
---