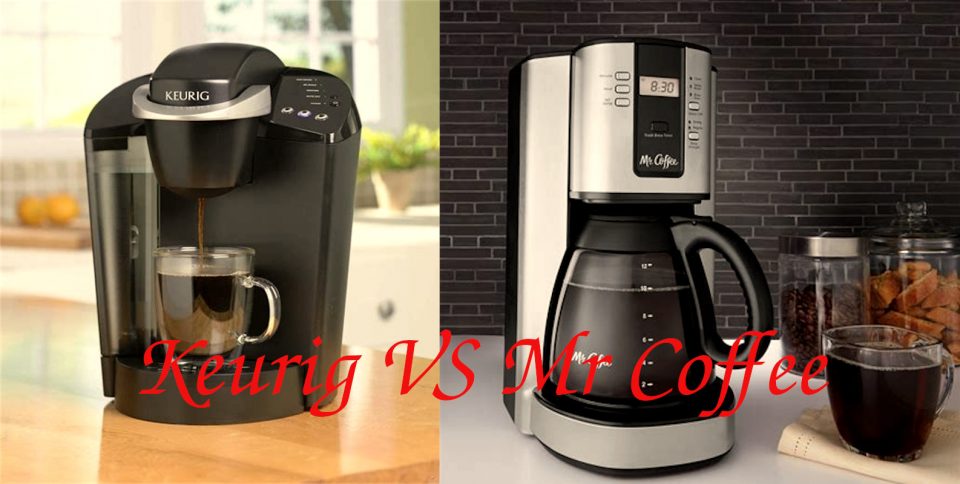 Brewing a cup of coffee every morning is now made as simple as pressing a button thanks to modern coffee machines. Although manual pour-over coffee is making a comeback among coffee connoisseurs, not everyone has the time and resources to prepare a coffee this way, especially when you're late for work. Anyone can benefit from a fast and reliable coffee machine whether you're a coffee lover or a casual drinker. However, finding the right one can be a daunting task due to the number of brands and models available.
Let's start our hunt for a great coffee by looking at two of the leading coffee machines out there – Keurig and Mr. Coffee. Keurig is known as a manufacturer of single-serve coffee machines that use pre-ground coffee in small, plastic tubs to brew one cup. Mr. Coffee, on the other hand, is famous for the classic drip coffee makers, but they have moved into the Keurig-style machines, too.
For this article, we're comparing the Keurig K-Duo Coffee Maker to the Mr. Coffee 12-Cup Coffee Maker. To find out which one of these is best suited to you, keep reading!
Remember, the Keurig did well against the Ninja in our other tests – it'll be interesting to see these two brand giants against each other.
Keurig K-Duo Coffee Maker
60 new from $134.99
9 used from $132.47
Free shipping
as of November 29, 2023 3:05 am
Compared to the other coffee makers from the brand, the Keurig K-Duo Coffee Maker is not just a single-serve coffee machine, but a regular drip coffee machine as well. The 2-in-1 combination is definitely a plus for those looking for a coffee maker that does more at an affordable price.
Combining two functions into a single appliance is an absolute space saver for your countertop. Operating the controls is easy as well, allowing you to brew up to 12 cups of coffee on the carafe and a maximum of 12 oz on a single K-Cup. The heated plate keeps your coffee warm, which is a great feature to have especially if you want to brew your coffee ahead of time.
Mr. Coffee 12-Cup Coffee Maker
17 new from $40.00
13 used from $31.68
Free shipping
as of November 29, 2023 3:05 am
Mr. Coffee has become a household name for anything related to coffee machines. That's why even with their most basic products, this brand still shines. The tried-and-tested Mr. Coffee 12-Cup Coffee Maker is a great example of reliable performance throughout the years. Although it does lack the various functionalities that newer models have, this machine is simply made to brew regular coffee the traditional way, and it does so quite well.
In terms of affordability, this is definitely an inexpensive coffee machine that anyone would want to have in their kitchen. Some aren't that fond of the plastic build, but it's sturdy enough to last you a long time without any visible signs of damage apart from minor scratches.
Which one to choose?
From the features alone, Keurig K-Duo Coffee Maker definitely wins by a mile. Not only can you enjoy K-Cups on this machine, but you can also have a cup of traditional drip coffee at the same time. However, if you only need a standard drip coffee for your daily caffeine fix, the Mr. Coffee 12-Cup Coffee Mix is a practical pick. This way, you can spend more on high-quality coffee beans or even a coffee grinder to pair with this machine!
How to make coffee at home:
---
---