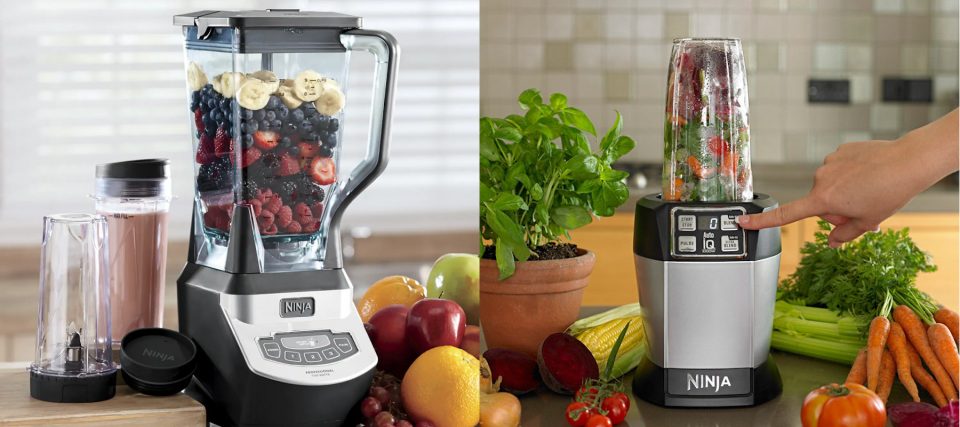 ---
Nutri Ninja Pro Blender BL450
The Nutri Ninja Pro BL450 Blender packs 900 watts of professional power in its motor, making it a portable powerhouse of a blender. It has a bullet blender design that has become more popular these days, thanks to its convenience and the jar also being good for drinking. That makes it easy and convenient to make a vegetable smoothie or protein shake in the morning or after a workout.
Top Nutri Ninja Pro Blender Features
The plastic construction is BPA-free. BPA is Bisphenol A, which is commonly found in plastics as it has been in use since the 1960s. The problem with it is that it tends to leech into the food or drinks that they're used or stored with. BPA has been known to disrupt cell function, making it harmful for the body. That's why finding a blender that's BPA-free is important since you'll be using it every day to make healthy drinks, and you can do that with the Nutri Ninja Pro Blender with no problems at all.
The Nutri Ninja Cup Set & Bundle
You get two cups with their own sip and seal lids, an 18 ounce one and a 24 ounce one. You can make two drinks at once or choose which cup you want to blend a drink with. Put all your ingredients in a cup, put on the lid with the blades, place it upside down on the motor base and fasten it, and get to blending. Once everything is blended, you can then take out the cup and flip it right side up, take off the bladed lid and either drink your finished product or put on a sip or seal lid to take with you or store in the fridge.
If you don't know what to make with your Nutri Ninja Pro Blender, you also get a guidebook with 30 recipes and wellness tips you can use as reference for making the most out of your new blender. There are also plenty of recipes available online that can be made with your Nutri Ninja Pro Blender, which is plenty powerful enough to blend whatever ingredient you wish to throw at it.
What can the Ninja Pro blend?
The Ninja Pro Extractor Blades are incredibly strong and can crush through ice, seeds, skins, and stems so you get a smooth and even consistency in your blends. You can do frozen blending, so you don't have to wait a long time to thaw out ingredients beforehand. You can just throw them in, blend it up right away, and get a smooth finish every single time. With 900 watts at your disposal, there's virtually no ingredient out there that you can't blend.
If you're looking for a single-serving blender that lets you make drinks and drink with it in one go, the Nutri Ninja Pro Blender is the one you should get. Thanks to its easy-to-use bullet design, it's also easy to clean. You can just clean the jars with soap and water or even put them in the dishwasher. The motor base takes nothing more than a damp cloth to clean up.
---
Still looking for the best blender? Check out our reviews of the Ninja IQ, the Ninja Ultima, and the Ninja Professional 1000 blenders.
---
---