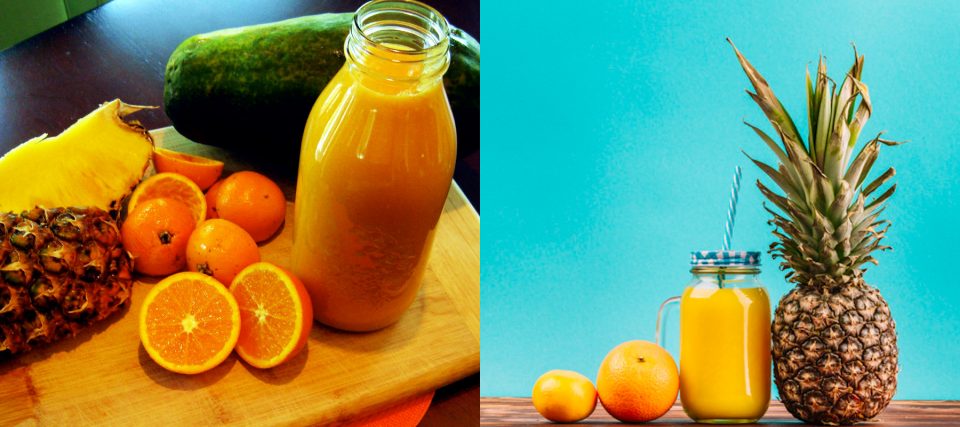 Looking for the perfect, revitalizing fruity drink? Orange and pineapple juice is summery, refreshing and full of flavour. This simple but delicious combination of the sweet and tangy citrus blends perfectly and is mouth-watering for breakfast, lunch or with an evening meal. Fika will show you just how to make it perfectly and just how many benefits this juice has.
The Surprising Health Benefits of Orange and Pineapple Juice
Great for digestion
Pineapple contains the enzyme bromelain. Derived from the fruits stem and fresh juice, it aids the body in breaking down and digesting proteins. Extracted, it can be used for multiple ailments including swelling, bruising, reducing healing time and alleviating pain after surgery (as shown in clinical trials) although it should be noted, the amount of bromelain in pineapple juice alone will not heal wounds in itself.
The Promotion of healthy skin
Rich in both vitamin c and beta carotene, pineapples and oranges contain the perfect antioxidants to help reduce the appearance of wrinkles, skin inflammation from pollutants and sun exposure, as well as improving upon the overall texture.
Vitamin C is also key in promoting collagen creation, which provides the foundation for new skin cells to form.
Maintaining eye health
Vitamin C is also linked to the maintenance of healthy eyes. Promoting the strength of the body's blood vessels, it builds up the delicate capillaries found in the retina.
In a 2016 study it was found that diets rich in vitamin c significantly reduce the risks of disease progression by 33.3%. Analysts who worked on the research, concluded that the effects were evident in the studied 1,027 pairs of female twins from the UK.
The reduced risk of cataracts has also been linked heavily to vitamin c,which is found in the liquid which protects the delicate tissue of the eye.
Orange and Pineapple Juice Recipe
Ingredients:
Two large sized oranges
1 1/2 cups pineapple chopped
1/2 cup lemon juice
Pinch of black pepper powder and salt to flavour
One teaspoon of sugar to sweeten
1/2 cup chilled water or ice cubes
Instructions:
Squeeze the juice out from the two oranges. Keep aside till needed.
Add lemon juice, pineapple, water, black pepper, sugar, and salt to the blender.
Blend the combined ingredients until smooth.
Add orange juice to the mixture and blend for a further minute to combine.
Pour into a glass and serve cold.
Orange and Pineapple Juice Recipe FAQs
What are the surprising sexual benefits of pineapple?
Pineapple also has a nickname, the libido lifter. It is named so for its high content of vitamin c and thiamine, both linked to an increase in mood boosting hormones and energy levels, which of course definitely come handy in the bedroom! Manganese is another of the pineapple's super minerals, which has frequently been linked to sexual health, especially within men.
Can I replace the orange juice in the smoothie?
The great thing about smoothies is that you can mix it up as little or as much as you want, so of course if orange juice isn't preferential, you can adjust the drink, for instance by adding more lemon juice and a higher percentage of sweetener, but orange is such a beneficial and readily available fruit, it's the perfect ingredient for this delicious mix.
Which fruits should you not combine in drinks?
Certain combinations of fruits work against each other and wreak havoc on digestion. For this reason, you should avoid combining melons of all types with other fruits. You should also avoid combining acidic fruits in the same blend, for instance grapefruits, strawberries and even sub acidic fruits like pears, apples and pomegranates. Sweet fruits like bananas work with some berries but not with acidic fruits for the same reason.
---
---