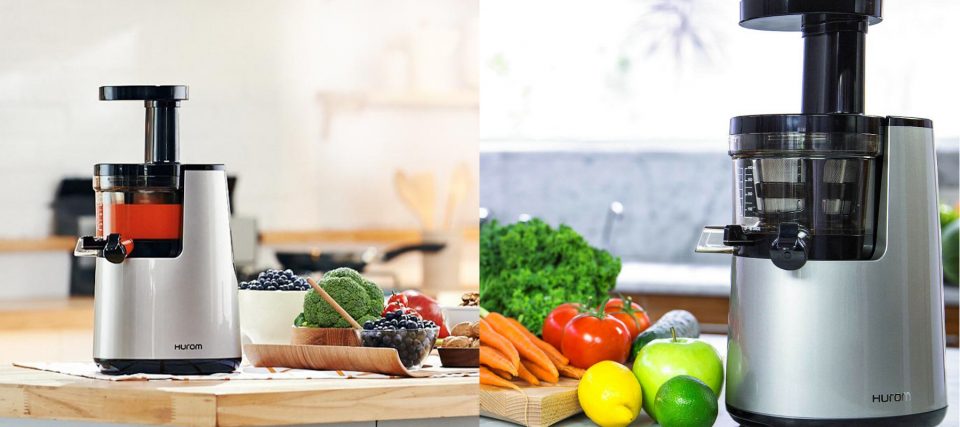 ---
Hurom Slow Juicer
2 used from $289.05
Free shipping
as of November 29, 2023 7:11 am
The Hurom H101 Easy Clean Slow Juicer is a masticating juicer that makes use of a twin-winged auger and Hurom's patented 2nd generation Slow Squeezing Technology. At a speed of 43 revolutions per minute, the Slow Squeezing Technology perfectly mimics hand-squeezed juice. Hurom claims that this combination of features help this slow juicer extract more juice from ingredients compared to cheaper centrifugal juicers out there. While its counterparts use high-speed motors, the Hurom does it the other way around.
The way the Hurom does it is a lot more thorough, not just using brute power to juice. It uses the mentioned twin-winged auger and Slow Squeezing Technology to gently squeeze the juice out of the ingredients instead of shredding them into wet pulp. You get a lot less pulp that way, making for a smoother, fresher juice that doesn't feel or taste processed. The pulp that does get strained is a lot drier, which means you end up with more juice.
Meanwhile, the high-speed centrifugal juicers forcibly turn fruits and vegetables into mush with spinning blades that chop them up into tiny bits. You still get a lot of wet pulp that gives the juice a less smooth finish. Also, those spinning parts generate a good amount of heat during the juicing process, thus heating up and oxidizing the juice, which means you get less nutrients and less freshness in the finished product.
The juice squeezed by the Hurom H101 masticating juicer can be told apart from the juice from centrifugal juices under a microscope with major differences. Hurom's juice retains more of its natural color, while the latter show more oxidation, which means juice from the Hurom Elite Slow Juicer is fresher and more nutritious. Getting more juice also means you get a lot less waste, so you get more value out of your ingredients.
Since the Hurom Elite Slow Juicer masticates instead of pulverizes, it does not alter the juice. Vitamin A and C are heat-sensitive, so juice from centrifugal juicers certainly have a lot less of those nutrients. You can just take out the remaining pulp. It comes with two types of strainers: a fine strainer for making pulp-free juice and nut milk, and a coarse strainer for making pulpier juice. Both are excellent at creating the exact texture you're looking for in your juice or nut milk.
The motor is also quite ingenious, so much that you can even juice frozen fruits without thawing beforehand. You still get a smooth and delicious juice from frozen fruits with the Hurom, despite having only 150 watts in the near-silent motor. It's not about brute force, but method and efficiency. Even when using a lot less energy compared to centrifugal juicers, you get more juice with better quality.
Having a more efficient juicer also means the Hurom H101 Juicer is a lot easier to clean as the moving parts end up being drier inside after juicing. It also has an advanced safety lock system, so it won't turn on and start juicing if it's still open. Only when it's in the closed position will it actually do its thing.
Add a 10-year warranty on the motor and 2-year warranty on the parts, and you have yourself a great juicer that will give you a lot of juice and value.
---
---
---