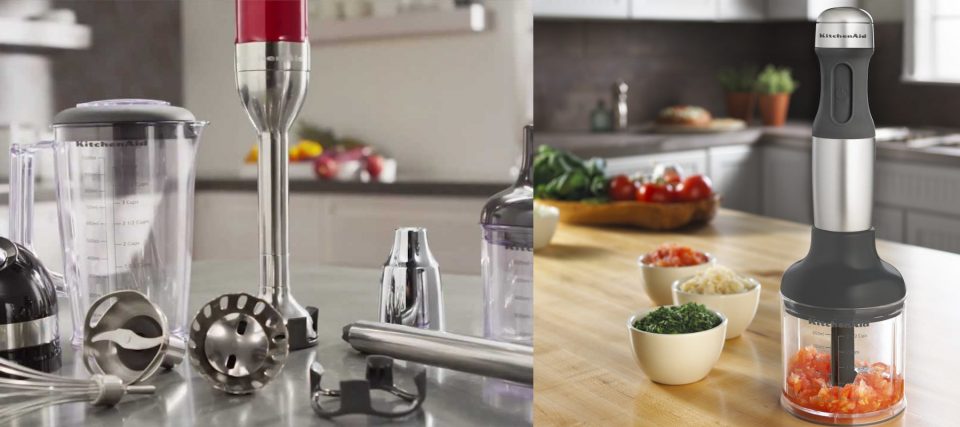 ---
If you are an enthusiastic home cook that loves spending time in the kitchen prepping and cooking meals for your friends and family to enjoy, having reliable kitchen gadgets will help you make your kitchen time more enjoyable and convenient. Although you do not mind the time you spend in the kitchen, it surely is helpful to have handy and reliable tools that make food preparations easier and faster so you can spend more time experimenting with the taste and flavors of each meal. One of the gadgets that we recommend is a hand blender. Hand blenders are very useful in the kitchen for quick and easy blending especially over the stove or with hot items. You can even make juices with them, ruby red tomato being our very fave – a dash of tabasco and black pepper, a sprinkle of garlic salt and it's perfect!
Hand blenders remove the need for an excess dish to be washed as well as you can avoid the hassle of taking out your big blender from the storage and transferring your dish from the pot to the blender. It is ideal for soups and whipping smaller quantities of liquid.
We love the KitchenAid Hand Blender because it is a reliable tool that makes meal prep fun and convenient. This three-speed hand blender allows you not just to blend, but also to puree, chop and whisk fast and easy. It has a very good stainless steel design that has a removable blending arm and S-shaped blade that you can rely on whatever you need to blend. It also has a non-slip handle that has a soft grip so you can comfortably blend with this gadget.
You will enjoy using this because it is easy and simple to use and it will definitely make blending a breeze. Use this on the pot where you boiled your potatoes for a creamy mash, or emulsify your hollandaise sauce while it is heating up on top of your double broiler. There are so many ways you can use this and you will never run out of recipes that you will need a trusty hand blender.
The KitchenAid Hand Blender comes with a whisk attachment that is great for whipping and emulsifying. Use it for whipping a quick dalgona coffee drink, egg whites, cream, or even emulsify sauces and condiments. It also comes with a 1-liter blending pitcher, and 3-cup blending jar, both are great as containers for storing your blended food items.
Other features you will love about the KitchenAid Hand Blender is its speed options. We recommend the 3-Speed Hand Blender that enables you to get the best blending power for moderate blending needs in your kitchen. You can even use this for processing nuts and crackers for your baking needs. You can be sure that your KitchenAid Hand Blender is strong and sturdy enough to break these hard ingredients into the blitz.
If you are still doubting the reliability and sturdiness of this tool then do not worry, the KitchenAid Hand Blender comes with a hassle-free 1-year replacement warranty so you could rest assured that you will enjoy your gadget and make wonderful recipes with it no matter what happens.
---
---
---