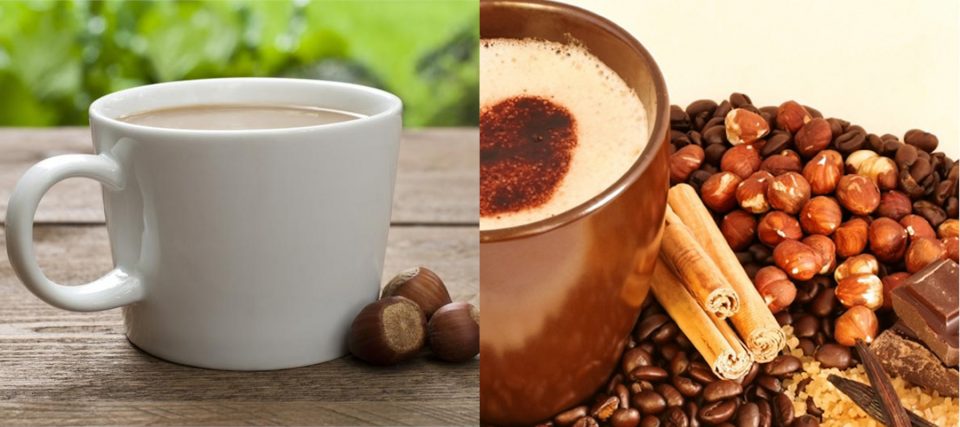 Coffee can be enjoyed in a variety of ways, and probably one of the most popular is flavored coffee. Purists swear by black coffee, but infusing other elements such as vanilla or hazelnut significantly boosts the taste and leaves anyone who has tried it wanting more! Flavored syrups are a popular choice, but can make your beverage too sweet, so avoiding those and going straight for the beans suits many drinkers.
There're numerous brands of hazelnut flavored coffee available on the market, but we've rounded up five of the best for you. We considered both affordability and bean quality, so you know we'll find the right hazelnut coffee for you!
---
01) New England Coffee Hazelnut Ground Coffee
The New England Coffee Hazelnut Creme is part of the brand's impressive lineup of flavored coffees such as Chocolate Cappuccino, Butter Pecan, and French Vanilla. It uses Arabica coffee, which is considered to have a superior taste compared to other beans. The rich coffee aroma is complemented by the nutty hazelnut flavor, giving you an exquisite cup of coffee with a rich warming sweetness to it. Satisfy your coffee passion with a Hazelnut Creme without worrying about your diet because this brand is guaranteed gluten-free. It also comes in packs of three, making it an affordable choice.
---
02) AmazonFresh Hazelnut Flavored Ground Coffee
Some brands use artificial flavoring to mimic the nutty flavor of hazelnut, but there are a notable few like the AmazonFresh Hazelnut Flavored Coffee that uses only natural flavors to achieve its distinct zest and fragrant aroma that everyone loves. This medium-roast flavored coffee is a customer favorite and has been the chosen pick-me-up even for those who aren't huge coffee fans. The sweetness doesn't overpower the coffee flavor; instead, it really blends well. What's more, it comes at a very affordable price! Considering its quality and flavor, this deal is hard to ignore.
---
03) Eight O'Clock Hazelnut Coffee
It's a fact that grinding your coffee beans right before you brew them is the best way to preserve their flavor and aroma, compared to pre-ground beans. With the Eight O'clock Hazelnut Coffee, you can enjoy this luxury with the added hint of hazelnut goodness in every cup! Coming from one of the most well-established coffee brands on the market, this coffee has a smooth mouthfeel that will put you in a great mood every morning. Add a dash of milk and a few ice cubes, and you have a delicious glass of iced hazelnut coffee that you can enjoy as the day heats up. Plus, it comes in a pack of six — so what's not to love?
---
04) SF Bay Coffee Hazelnut Crème
The SF Bay Coffee Hazelnut Creme has a light and creamy flavor thanks to the German hazelnuts. The addition of Madagascar vanilla and cinnamon produces a smooth finish with a slightly sweet aftertaste. This is perfect for coffee lovers who want a mellow coffee drink that they can enjoy any time of the day, as opposed to stronger blends that are typically reserved for the morning before work. SF Bay is known for manufacturing products that are friendlier to the environment than many other brands. So, if you're conscious of how your consumables are affecting Mother Earth, switching to SF Bay allows you to enjoy a delicious cup of coffee without damaging the environment.
---
05) Cameron's Coffee Roasted Whole Bean Coffee Hazelnut
Cameron's Coffee is one of the few brands that has the right to pick beans from the world's top 10% of beans, which guarantees that only the highest quality beans go into your cup. Each bean is roasted to perfection, so you know that their Vanilla Hazelnut Coffee is one of the best out there. The distinct nutty flavor fills your senses with a rich and full-bodied deliciousness. This really is a brew to savor, take your time, and enjoy – never grab and run with this kind of taste sensation.
---
---
---