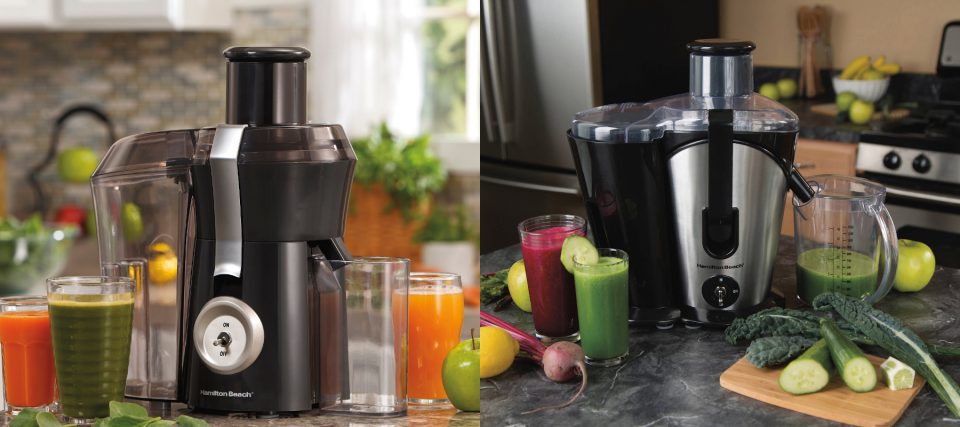 ---
Hamilton Beach Big Mouth Juicer
The Hamilton Beach Big Mouth Juicer is a solid juicer that does everything right for most people who love drinking juice, but are also concerned about their health. They don't want store-bought juices that contain tons of sugar and preservatives, so they get a juicer to make their own. However, most juicers tend to have a couple of things wrong with them that users have to compromise on. The Hamilton Beach Big Mouth Juicer is something you won't have to compromise anything with as it's a good juicer that you can rely on.
It's the perfect juicer for you to take your nutrition to the next level. You can incorporate fruits and vegetables into your diet without having it be boring or tedious. Having a good juicer that can turn it all into a juice that can be easily consumed daily is certainly a great boost to one's health. The Hamilton Beach Big Mouth Juicer is the perfect juicer to get started with that new healthy habit, giving you fresh and nutritious juice with a smooth texture.
The Hamilton Beach Big Mouth Juicer's Features
It has an extra-large chute that's 3 inches wide, which lets you fit a lot of ingredients into it. You don't have to pre-cut them as much, so you can juice more quickly. That's the Big Mouth in the name, and it's a big deal as there are certain ingredients you don't want to cut into small pieces, like fruits with soft centers. But with the Hamilton Beach Big Mouth Juicer, the most pre-cutting you'll have to do to them is just cutting them in half or quarters before putting them in to be juiced right away.
The 1-horsepower motor outputs 825 watts of power, making it plenty powerful for turning even the hardest of ingredients into juice, like dense beets and frozen fruits. This lets you have a juice bar right in your own home kitchen, where you can have juice out of whatever you want and not just be limited by a menu, which may not have what you exactly want.
All the removable plastic parts, excluding the motor base, are dishwasher safe. That's thanks to the plastic being BPA-free, which means that it's food-safe and doesn't leech plastic particles into your juice. They're very easy to clean, with soap and water being sufficient enough to make them squeaky clean. As for the metal parts, they're stainless steel that won't corrode even if you juice acidic fruits and vegetables with them like tomatoes, citrus fruits, and so on.
The pulp bin catches all the stuff that are squeezed of all the juice, and you can then throw it away, add it to compost, or use it as an ingredient for something else. You can also place a bag in the pulp bin to catch the pulp for easier disposal after juicing. That and the whole juicing mechanism can be taken apart without any special tools, making it easy to clean and maintain.
---
If you want to find out even more about this wonderful juicer, make sure to watch the video below.
---
---