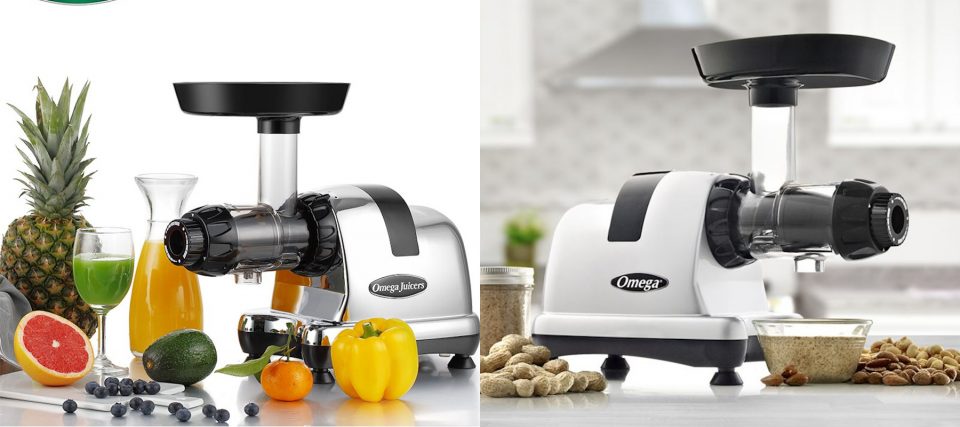 ---
Masticating juicers rule the juicing world with its great nutrition preserving capability. Compared to centrifugal juicers, masticating juicers offer a slower process but allows for fruits and vegetables to retain their vitamins and enzymes which is an important part of consuming fresh fruit and vegetable juices. If you are serious about getting your diet right and having a healthy and nutritious habit of eating we recommend that you get a juicer that will be convenient and efficient to your lifestyle. One of the best masticating juicers in the market is the Omega J8008C Ultimate Juicer & Nutrition System Masticating Juicer. It runs on 200 watts and 80 revolutions per minute that is powerful enough to provide you with hassle-free juicing at home.
Get the benefits of a natural diet by getting your own juicer and significantly decrease your susceptibility to chronic diseases and illnesses. Make sure you are eating and drinking only healthy and natural products by preparing your meals and drinks in the comforts of your own kitchen. Get to know the ingredients you are putting in your meal and how they are being prepared before being served on your plate. By having a good relationship with your ingredients and the process they are prepared and cooked, you will know exactly what you are feeding your body.
What we love about having the Omega J8008C Ultimate Juicer & Nutrition System Masticating Juicer at home is that you will feel guilty buying unhealthy food and drinks outside like fast food and sodas. By having a reliable juicer at home you will be compelled to prepare your food and drinks and bring them to school, work, or even at picnics.
Enjoy the refreshing quality of natural ingredients by juicing your favorite fruits and even the vegetables that you hate but are absolutely good for your body, with the Omega J8008C juicer. It is a sturdy and powerful masticating juicer that has to provide less heat buildup and prevent oxidation of your fruits and vegetables to prevents the loss of its nutritional values.
Use it to make fruit juices so that whenever your kids ask for a drink you can give them cold and fresh fruit juices and you can sneak in some veggies too and they will not even taste it. Another great thing about this is that it is not only for juicing, you can make healthy snacks and recipes using the Omega J8008C Juicer. Make nut butter dips that are less or have no sugar compared to grocery store nut butter that is loaded with sugars and preservatives. The natural taste of homemade nut butter will surprise you and you will never go back to store-bought again.
If you love coffee, you can enjoy the freshest cup by grinding your beans at home. Preserve the wonderful aroma of your coffee by just grinding enough beans for your coffee each day.
You can also utilize this to make jams and even ice cream! It is truly enjoyable and efficient to use because it helps you maximize every fruit and vegetable to produce the maximum amount of juice and leave you with a dry pulp that is automatically ejected out of the
Omega J8008C Juicer Extractor and Nutrition Center Creates Fruit Vegetable and Wheatgrass Juice Quiet Motor Slow Masticating Dual-Stage Extraction Automatic Pulp Ejection, 200-Watt, Metallic
3 new from $349.99
1 used from $247.82
Free shipping
as of July 28, 2021 3:22 am
---
---
---